Gyms and non-essential shops in all areas are expected to be allowed to reopen when England's lockdown ends.
On Monday afternoon, Boris Johnson will explain the detail of England's return to the "three-tier system" when lockdown ends on 2 December.
It is reported pubs in tier three will stay shut except for takeaway. In tier two, only those serving meals can open.
Last orders in all pubs will remain at 22:00 GMT, but customers will have an extra hour to drink up.
The ban on outdoor grassroots sport is also set to be lifted in all tiers, following calls for this restriction to be eased.
And mass testing will be introduced in all tier three areas.
Details of which tier every region of England will be put into are expected on Thursday.
The prime minister is expected to make a statement to the House of Commons at about 15:30 GMT unveiling the plans for Covid-19 restrictions in England from 2 December. MPs will vote on these proposals later this week.
More areas are set to be placed in the higher tiers – high risk or very high risk – after lockdown, No 10 has said.
Gyms and non-essential shops have been closed in England since 5 November, but are expected to reopen in all areas. Gyms were previously allowed to open in tier three, despite initially being told to shut in some places.
The prime minister had hoped to announce arrangements for the Christmas period on Monday, but this has been delayed until at least Tuesday to allow the Scottish and Welsh governments to agree the plans.
It comes after the Westminster government said the UK's four nations had backed plans to allow some household mixing "for a small number of days" over Christmas.
One option that was discussed in meetings this weekend was that three households could be allowed to meet up for up to five days, according to the BBC's deputy political editor Vicki Young.
Health Secretary Matt Hancock told BBC Radio 4's Today programme the government hoped to agree a "cautious, balanced approach" for Christmas "that can allow people to see their families, but also makes sure that we can keep the virus under control".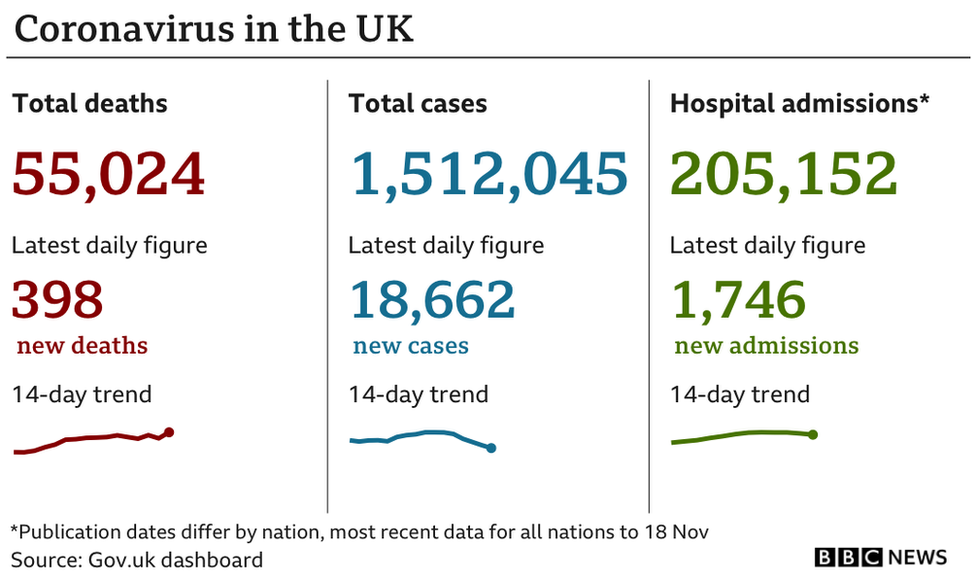 Mr Johnson is expected to tell the House of Commons later: "The selflessness of people in following the rules is making a difference."
The increase in new cases is "flattening off" in England following the introduction of the nationwide lockdown measures, he will say.
The prime minister will say "we are not out of the woods yet", with the virus "both far more infectious and far more deadly than seasonal flu".
"But with expansion in testing and vaccines edging closer to deployment, the regional tiered system will help get the virus back under control and keep it there," he will say.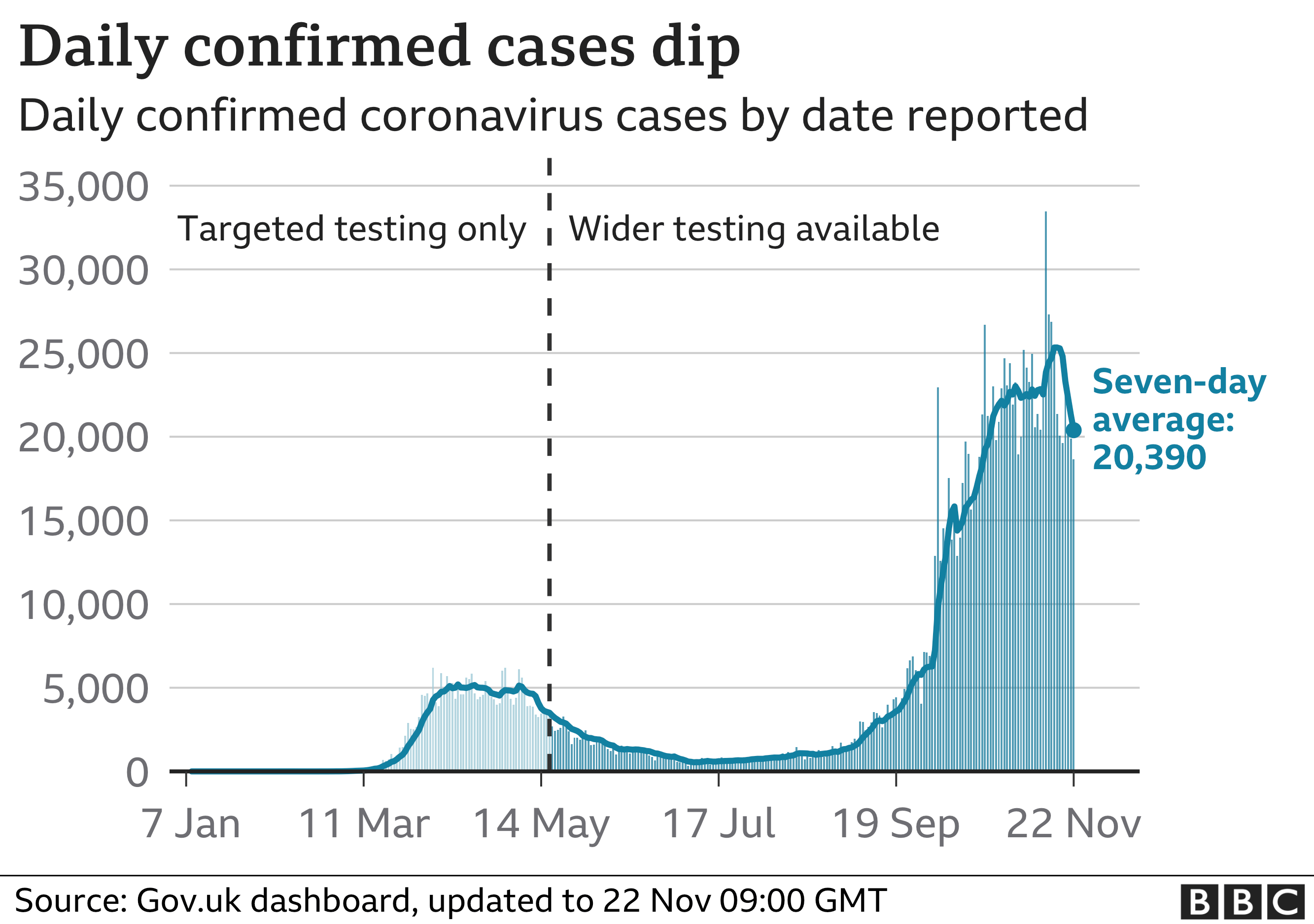 The plan for extensive community testing in tier three areas follows a pilot programme in Liverpool, where more than 200,000 people were tested and which the government said contributed to the fall in cases there.
Mr Johnson is expected to tell MPs that rapid testing will "help get the virus back under control and keep it there".
Daily coronavirus tests will be offered to close contacts of people who have tested positive in England, as a way to reduce the current 14-day quarantine.
Downing Street also said weekly testing would be expanded to all staff working in food manufacturing, prisons and the vaccine programme from next month.
On Sunday, the UK recorded another 18,662 confirmed coronavirus cases and 398 deaths within 28 days of a positive test. The total includes 141 deaths which were omitted from the 21 November figures in error.
Source: BBC