Deploying Royal Navy gunboats to protect UK fishing waters under a no-deal Brexit would be "undignified", a former Conservative minister has said.
Tory MP Tobias Ellwood described the threat as "irresponsible" after the Ministry of Defence said four ships were ready for "robust enforcement" when the transition period ends.
UK-EU trade talks are continuing ahead of a mutual deadline on Sunday.
The MoD said it was prepared for a "range of scenarios" after 31 December.
Navy vessels are already deployed to enforce UK and European fishing laws for large parts of the year.
A major sticking point in negotiations has been access to UK fishing waters, with the EU warning that without access to UK waters for its fleets, UK fishermen will no longer get special access to EU markets to sell their goods.
Mr Ellwood, who chairs the Commons Defence Committee, told BBC Radio 4's Today programme that headlines highlighting the threat to deploy the Navy risked distracting from the ongoing talks and were "absolutely irresponsible".
"This isn't Elizabethan times anymore, this is global Britain – we need to be raising the bar much higher than this," he said.
"Being ready for the worst-case scenario and using this final 48 hours to actually get a deal, they are two very different things," he added.
He said the focus should be on what is "already in the bag" and that outstanding issues like access to fishing waters could be sorted once a trade deal is signed.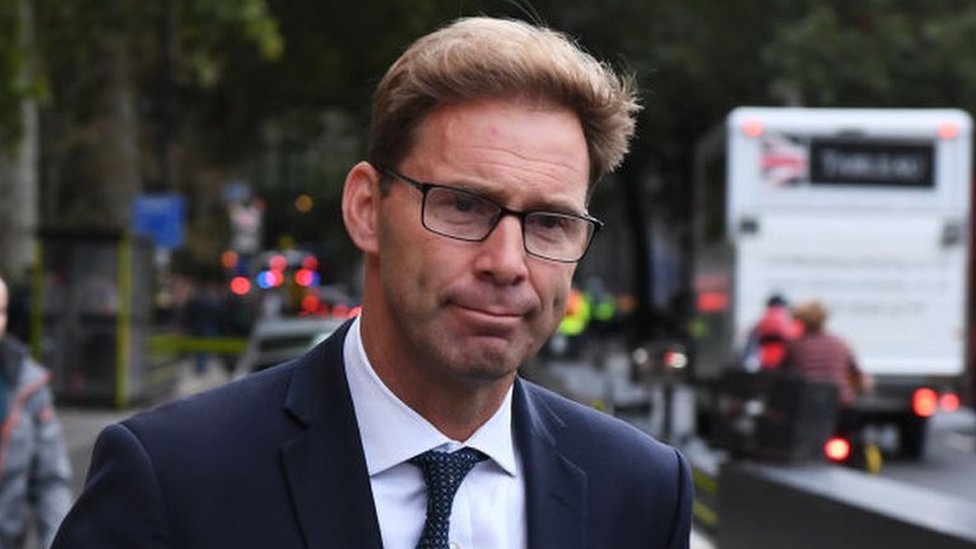 Former Tory party chairman Lord Patten accused Prime Minister Boris Johnson of being on a "runaway train of English exceptionalism".
Humza Yousaf, the Scottish government justice minister, told the BBC: "This UK government gunboat diplomacy is not welcome in Scottish waters.
"We will protect our fisheries where necessary. Police Scotland and Marine Scotland have primacy to do that. But we won't do that by threatening our allies, our Nato allies in fact, by threatening to sink their vessels."
But Admiral Lord West, a former chief of naval staff, defended the threat of using the Royal Navy to protect UK waters from foreign fishing vessels if asked to do so in a no-deal Brexit scenario.
"It is absolutely appropriate for the Navy to do as it is told by the government," he said, adding that additional powers would allow Naval officers to deal with "stormy" altercations with foreign fishermen.

The basics
Brexit happened but rules didn't change at once: The UK left the European Union on 31 January 2020, but leaders needed time to negotiate a deal for life afterwards – they got 11 months.
Talks are happening: The UK and the EU have until 31 December 2020 to agree a trade deal as well as other things, such as fishing rights.
If there is no deal: Border checks and taxes will be introduced for goods travelling between the UK and the EU. But deal or no deal, we will still see changes.

The MoD has said it has conducted "extensive planning and preparation" to ensure it is ready for a range of scenarios at the end of the transition period, including having 14,000 personnel on standby to support the government over the winter with the EU transition.
It said four offshore patrol boats will be available to monitor UK waters and added that it would have "robust enforcement measures in place to protect the UK's rights as an independent coastal state".
An expansion of powers for the Royal Navy Police, enabling officers to potentially board foreign boats and arrest those breaking the law, is one proposal in the MoD's no-deal contingency planning, a spokesman confirmed.
According to the MoD's website, three River Class patrol ships with a crew of 45 sailors already work "at least 275 days a year at sea enforcing British and European fisheries law".
The Sunday deadline was set by Mr Johnson and European Commission President Ursula von der Leyen after the pair met in Brussels on Wednesday, after months of talks failed to achieve an agreement.
Mr Johnson said the EU needed to make a "big change" over the main sticking points on fishing rights and business competition rules, while Mrs von der Leyen said no deal was the most probable end to "difficult" talks.
The EU has rejected Mr Johnson's request to bypass the European Commission and speak directly to French President Emmanuel Macron and Germany's Angela Merkel about the unresolved issues.
According to EU officials, he was told discussions could only take place through the bloc's chief negotiator, Michel Barnier, who is meeting with his UK equivalent in Brussels.
Speaking on Friday, the PM said a no-deal Brexit was now "very, very likely" and that planning for that outcome was ramping up.
Mrs von der Leyen told reporters that the two sides were still "apart on fundamental issues".
Meanwhile, tests of a motorway barrier system designed to deal with potential traffic disruption in Kent once the transition period ends on New Year's Eve have been carried out.
The EU has set out contingency measures to ensure UK and EU air and road connections still run after 31 December.