Two leading medical journals have said the UK government's plan to ease Covid rules over Christmas is a "rash decision" that will "cost many lives".
The Health Service Journal and British Medical Journal said people might see the lifting of restrictions "as permission to drop their guard".
No 10 said it would not review plans to allow household mixing over Christmas.
But a minister warned people to keep social contact to a "minimum" over the five days of reduced restrictions.
The Health Service Journal (HSJ) and British Medical Journal (BMJ) wrote in a joint editorial: "Members of the public can and should mitigate the impact of the third wave by being as careful as possible over the next few months. But many will see the lifting of restrictions over Christmas as permission to drop their guard."
HSJ editor Alastair McLellan and BMJ editor in chief, Fiona Godlee, wrote that it was only the second time their publications had written a joint editorial.
"We are publishing it because we believe the government is about to blunder into another major error that will cost many lives," they added.
Cabinet minister Stephen Barclay said people must "act responsibly" over Christmas.
He told BBC Breakfast he understood families wanted to meet up after a "very difficult" year, but added: "I won't see my parents over Christmas, but I will see my parents-in-law and those are the decisions many families will take.
"We've got to trust the British people to act responsibly and do the minimum that is possible for them in their family situation."
He warned that the five-day easing of restrictions from 23 to 27 December should not be "misinterpreted", adding: "It's not that the restrictions are being lifted in their entirety – we're not going from tier three to some sort of tier zero."

When the government announced the relaxation of rules for Christmas, it was hoped cases would be falling right up to the festive period.
It was mid-lockdown and with the new tougher system of regional tiers in the pipeline, the hope was that the virus could be contained.
That has not turned out to be the case – hence the moving of London and some of the surrounding areas into tier three.
As always, the bottom line is the risk to the NHS – so it's worth pointing out that for all the pressure at the start of December one-in-nine hospital beds were still empty.
The full impact of the festive relaxation is, of course, impossible to predict. UK chief medical adviser Prof Chris Whitty has called it a "modest" relaxation – after all, in tier three areas hospitality will still be closed for all but takeaways.
The judgement that has been made is that the benefits outweigh the costs.
Allowing families to come together will be an important boost after such a difficult year, the government believes. What is more, there was a fear the public would just ignore pleas not to mix.
But it clearly comes with risks – that's why the public is being asked to exercise caution.

It comes as millions of people prepare to move into England's toughest tier of coronavirus rules.
Some 10.8 million people will join tier three on Wednesday, bringing the total number of people living under the toughest restrictions to 34 million people – or 61% of England's population.
Under tier three – very high alert – rules, pubs and restaurants must close, except for takeaway and delivery, and indoor entertainment venues such as theatres, bowling alleys and cinemas must remain shut. What can I do under tier 3 restrictions in England?
Schools can remain open, but the government has threatened legal action against Greenwich Council, in south-east London, after it wrote to head teachers asking all schools to move classes online amid a rise in Covid cases.
The Department for Education said if the Labour-led council did not withdraw its advice, the government would seek an injunction at the High Court to enforce its powers to keep schools open.
Speaking at a Downing Street briefing on Monday evening, Health Secretary Matt Hancock said the virus was doubling in some areas of England roughly every seven days.
It would only take a few doublings of cases for hospitals in the capital, Essex and Kent to be "overwhelmed", he warned.

The latest tier three areas include:
Greater London
The south and west of Essex (Basildon, Brentwood, Harlow, Epping Forest, Castle Point, Rochford, Maldon, Braintree and Chelmsford, along with Thurrock and Southend-On-Sea borough councils)
The south of Hertfordshire (Broxbourne, Hertsmere, Watford and the Three Rivers local authority)

The hospitality industry warned the tightening of restrictions would put thousands more jobs at risk.
There were 819,000 fewer workers on UK company payrolls in November than at the start of the pandemic, according to the latest official statistics – with hospitality the worst-hit sector.
Mr Hancock acknowledged the latest measures would be a "blow" to people and businesses, but said "further action" could not be ruled out.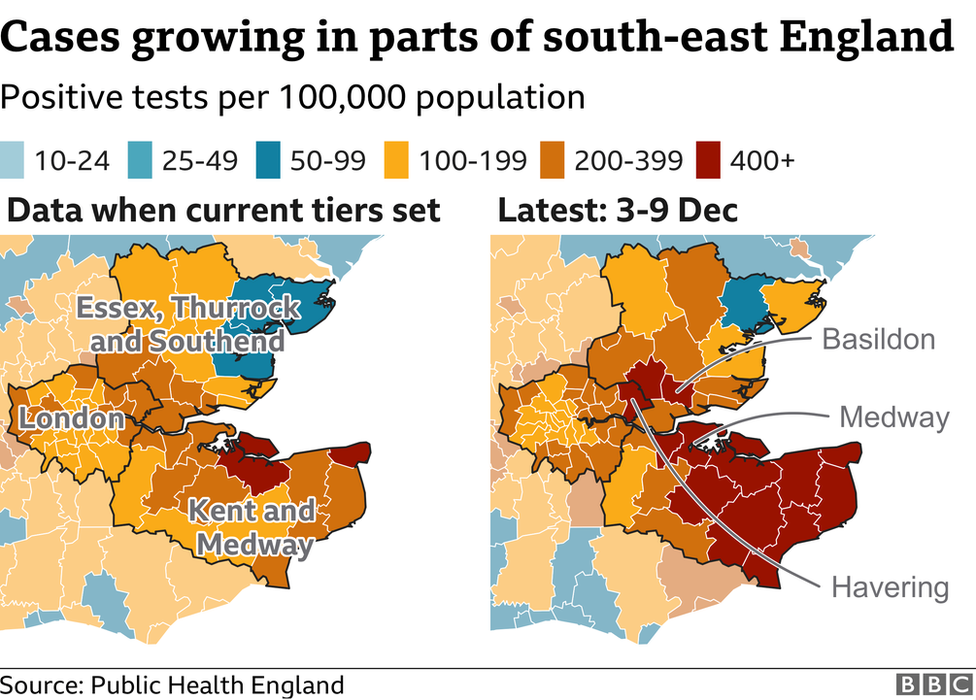 Mr Hancock also revealed on Monday that an initial analysis of a new variant of coronavirus suggested it was "growing faster than the existing variant", which should serve as a "warning to us all" to stay "vigilant".
A further 20,263 cases and a 232 deaths within 28 days of a positive test were recorded in the UK on Monday, according to government figures.
Former Tory minister Stephen Hammond, who represents Wimbledon, told BBC Newsnight there would now be a "rethinking" over Christmas rules.
London Mayor Sadiq Khan told BBC Radio 4's Today programme he would welcome a review to see if there was a "less unsafe" way to ease restrictions during the festive period.
But Downing Street said the government "has no plans to review the Christmas guidelines".
Scientists have warned the easing of coronavirus restrictions over Christmas by all four UK nations would cause a spike in infections.
David Nabarro, from the World Health Organization, said the price of such a relaxation "could well be very high" and urged people to think carefully about their plans.
Prof Stephen Reicher, of the University of St Andrews, said the UK was heading for a "disaster" and would "pay the price in the new year" if people have too much social contact over Christmas.
Source: BBC