Millions of people across the UK are preparing for tougher coronavirus restrictions amid growing concern about the rising number of cases.
Some 38 million people in England will be subject to the nation's strictest measures – tier three – from Saturday.
Northern Ireland will begin a six-week lockdown from 26 December, similar to the "sustained" shutdown in March.
Wales had already announced a lockdown from 28 December which will be reviewed every three weeks and has no end date.
In Scotland, the government has warned that tougher restrictions – including a potential lockdown – after the festive period cannot be ruled out.
When asked about the prospect of a national lockdown in England, government minister Nick Gibb said the tier system was "very effective" but nothing was ruled out.
But the president of the Royal College of Emergency Medicine, Dr Katherine Henderson, said England and Scotland needed to do "whatever it takes" to get a grip of the virus, even if "that means full lockdown".
The new six-week lockdown in Northern Ireland will include closing non-essential shops and close-contact services such as hair salons, while pubs, cafes and restaurants will be restricted to takeaway services.
The first week of the lockdown, running until 2 January, will see even tighter measures with essential shops, including supermarkets, having to close each day by 20:00 GMT.
No sporting events will be permitted at all – even at elite level – with people being urged only to leave their home for essential reasons.
In Wales, non-essential shops will close from the end of trading on Christmas Eve, with an alert level four lockdown starting four days later.
Scotland's Covid levels and restrictions will be reviewed on Tuesday.
Meanwhile, school leaders in England have reacted angrily to the government's announcement that the return to secondary school in January will be staggered to allow schools to set up a Covid testing scheme.
They say that the move came too late for them to make the necessary preparations, but Mr Gibb, the schools minister, defended the plan, saying a "national effort" was needed and the government would provide support.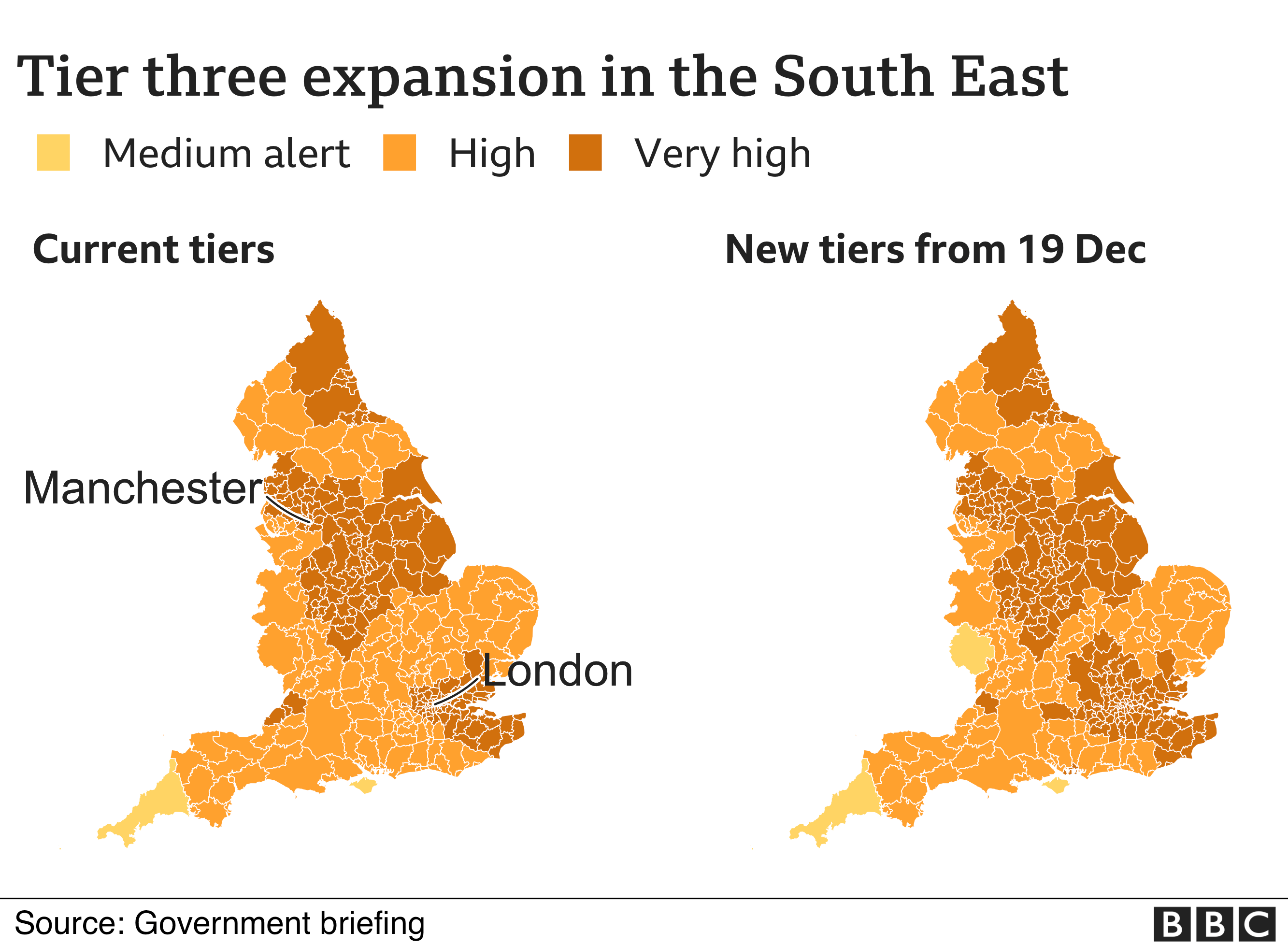 The decision by all four UK nations to relax restrictions and allow more mixing for five days over Christmas has prompted concern that it will fuel a further surge in case numbers, with medical professionals warning the NHS is already under significant pressure.
Dr Henderson told BBC News the UK was at a "really dangerous point where we could tip into finding it incredibly difficult to manage".
Dr Martin Kelly, a consultant respiratory physician in Londonderry, told BBC Radio 4's Today programme: "Right in the mouth of Christmas we're seeing a significant further surge in numbers which is already putting the service under significant pressure."
Dr Nick Lyons, a health board medical director in south Wales, said things were similar in his region, were non-urgent procedures have been cancelled. The intensive care units "were basically full with Covid patients" while the field hospital was "roughly at half its total capacity", he told Today.
In England, Dr Ganesh Suntharalingam, outgoing chair of the Intensive Care Society, said some hospitals were already operating at capacity – or slightly over – and the prospect of adding a third spike on top of that was "a serious concern".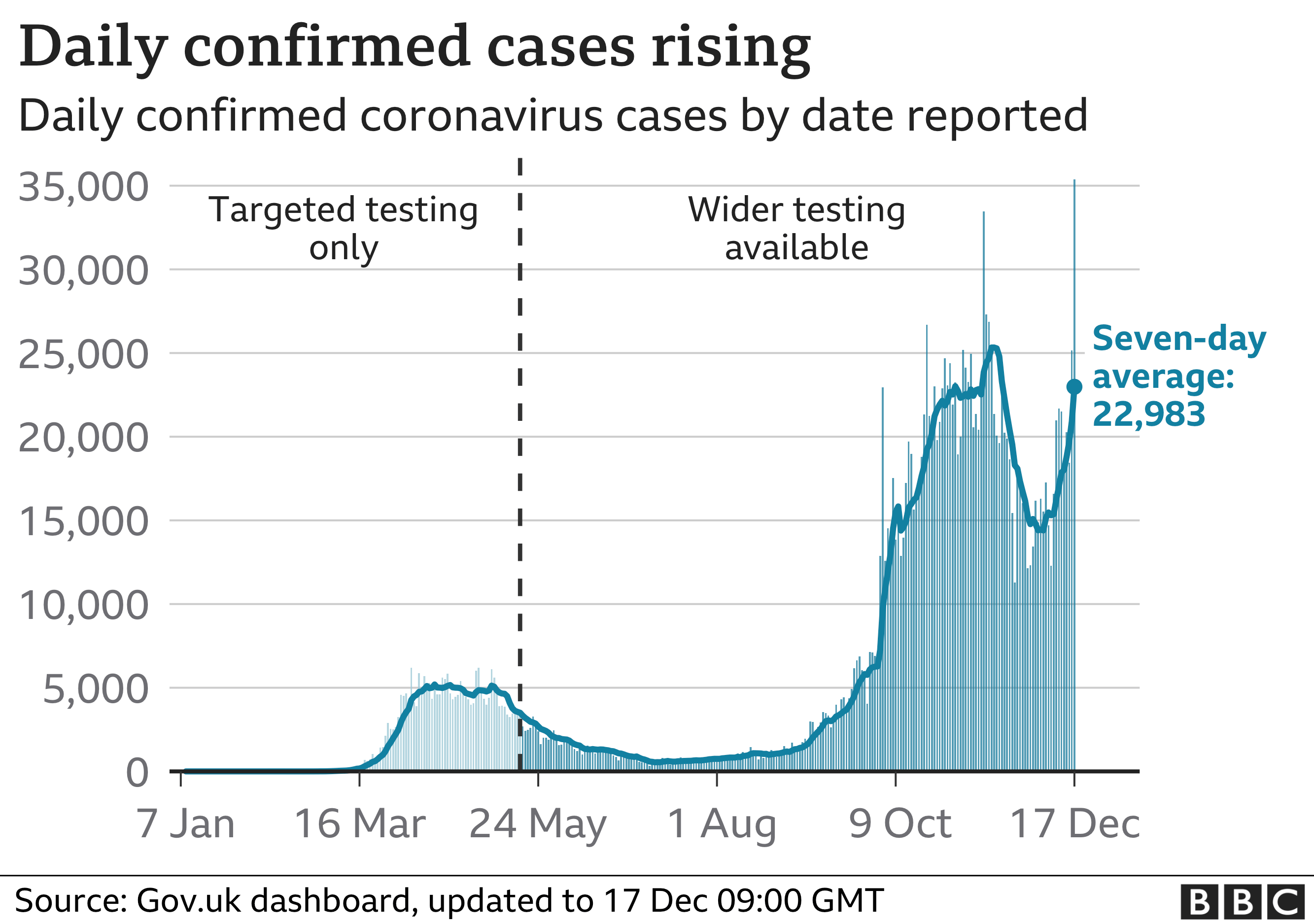 Official figures show infection rates went up in every region of England last week, apart from Yorkshire and the Humber.
London had the highest rate, at 319.3 cases per 100,000 people in the week to December 13, up from 199.9 in the previous week. The rate went from 152.9 to 249.1 in eastern England, and from 167.6 to 238.7 in the South East.
From 00:01 GMT on Saturday, Bedfordshire, Buckinghamshire, Berkshire and Hertfordshire will move up a tier, along with parts of Surrey, East Sussex, Cambridgeshire and Hampshire.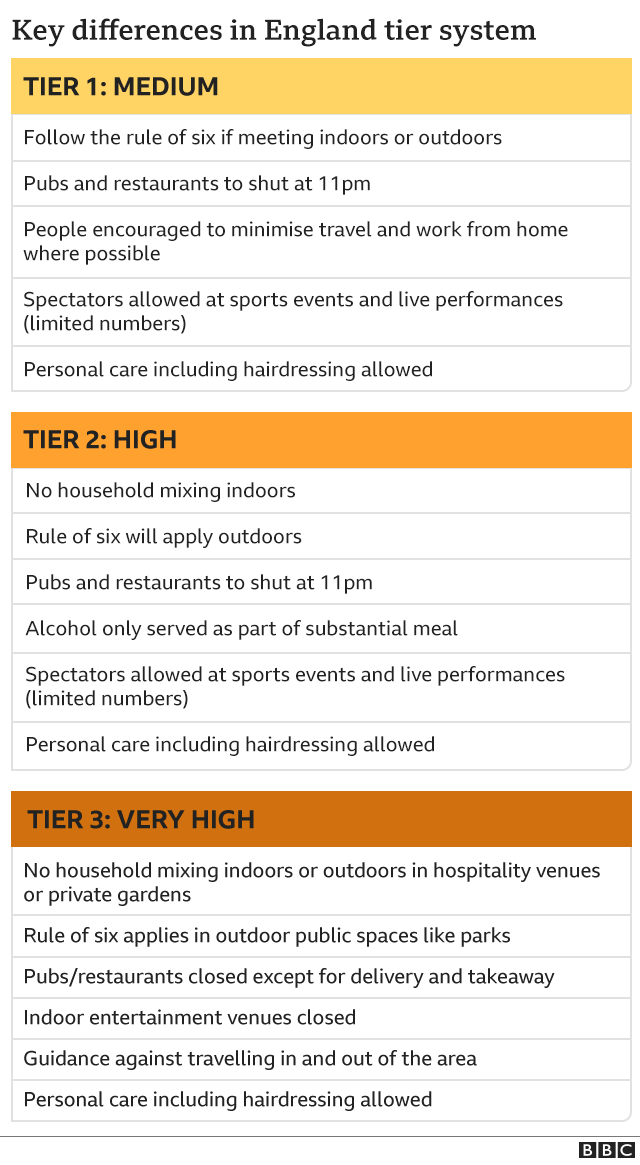 Meanwhile, the National Institute for Health and Care Excellence has advised doctors to offer patients in hospital with coronavirus a follow-up six weeks later to check for "long Covid" symptoms.
NICE says the longer-term effects can be "significant", and has identified 28 of the most common symptoms, from breathlessness and dizziness to chest pain.
Source: BBC