The planned relaxation of Covid rules for Christmas has been scrapped for large parts of south-east England and cut to just Christmas Day for the rest of England, Scotland and Wales.
From midnight, a new tier four will be introduced in areas including London, Kent, Essex and Bedfordshire.
Elsewhere in England, Scotland and Wales, relaxed indoor mixing rules are cut from five days to Christmas Day.
Those in tier four cannot mix indoors with anyone not from their household.
Prime Minister Boris Johnson announced the changes for England at a Downing Street briefing after scientists said a new coronavirus variant is spreading more rapidly.
Tier-four restrictions – similar to England's second national lockdown – will apply in all areas in the South East currently in tier three, covering Kent, Buckinghamshire, Berkshire, Surrey (excluding Waverley), Gosport, Havant, Portsmouth, Rother and Hastings.
It will also apply in London (all 32 boroughs and the City of London) and the East of England (Bedford, Central Bedford, Milton Keynes, Luton, Peterborough, Hertfordshire, Essex (excluding Colchester, Uttlesford and Tendring).
In Scotland, Covid restrictions will only be relaxed on Christmas Day, with mainland Scotland being placed under the tightest restrictions from Boxing Day.
In Wales, First Minister Mark Drakeford announced that the country will be placed under lockdown from midnight.
There are no plans at the moment to change the current Christmas restrictions in Northern Ireland, BBC News NI understands. The country is set to enter a six-week lockdown from 26 December.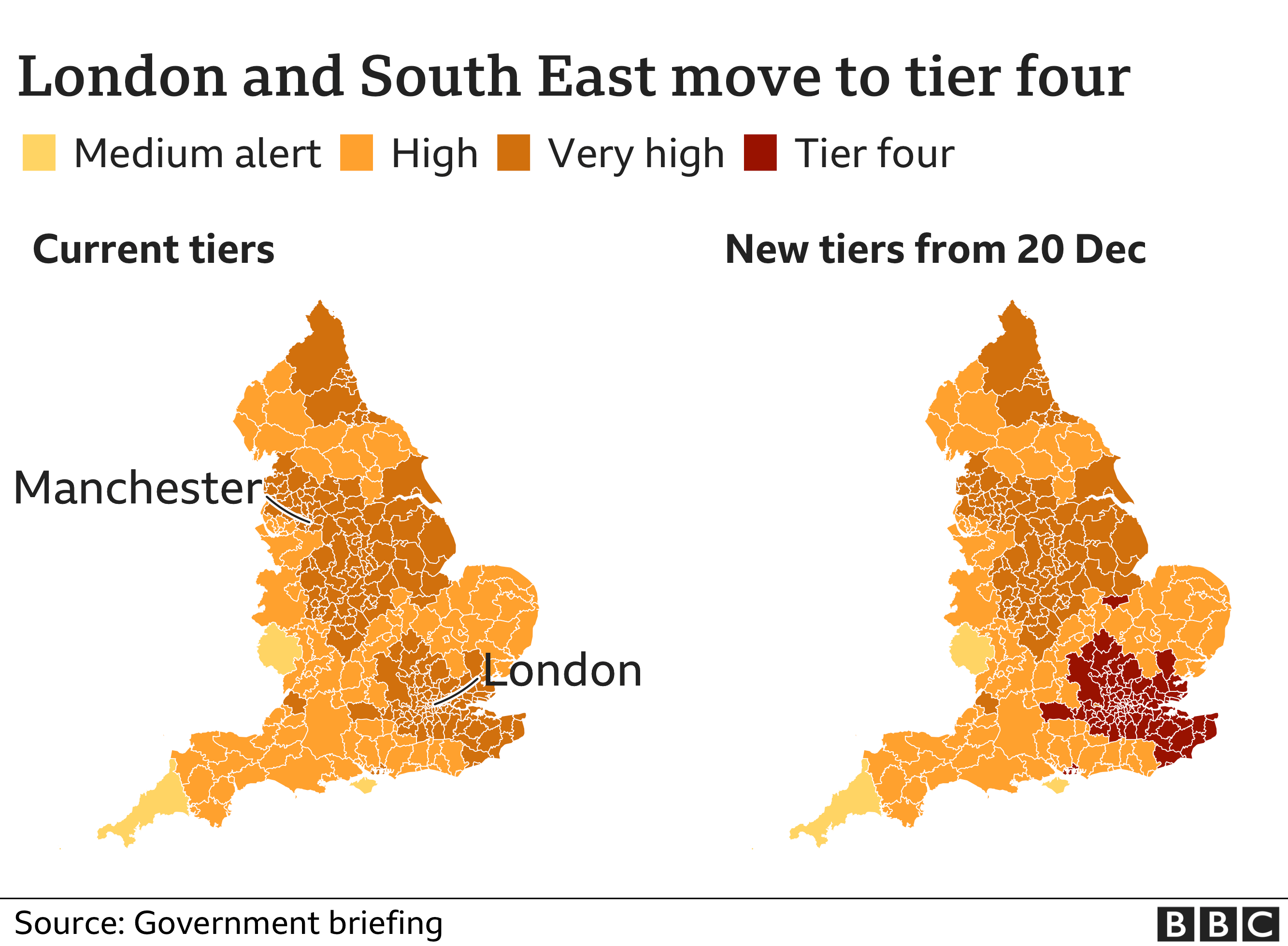 For tier-four areas in England, a stay-at-home order has been issued, with exemptions for those who have to travel to work or for education.
Social mixing will be cut to meeting one person in an open public space.
All non-essential retail will have to close, along with hairdressers, nail bars, indoor gyms and leisure facilities.
People will be advised not to travel into a tier four area.
The restrictions will last for two weeks, with the first review due on 30 December.
Mr Johnson told the Downing Street briefing: "I know how disappointing this will be, but we have said throughout this pandemic that we must and we will be guided by the science.
"When the science changes, we must change our response. When the virus changes its methods of attack we must change our method of defence and as your prime minister I sincerely believe there is no alternative open to me."
Mr Johnson acknowledged it was "unquestionably a difficult moment" in the coronavirus crisis but insisted that things would be "radically different" by Easter due to the vaccine.
He did not confirm whether police would be told to stop people travelling home over the festive period or knock on doors on Christmas Day.

There is still some reason for hope
The steep increase in the proportion of coronavirus cases linked to this new variant is strong evidence that it is driving transmission.
In London, 28% of cases were as a result of this new mutation in mid-November, but that has now increased to more than 60%.
It may explain why, during the second lockdown, cases started to increase in London, while in Kent the tier three measures appear to have had little impact in recent weeks.
As England's chief medical adviser Prof Chris Whitty says, this is a bad moment, but there is also some hope.
Mutations happen all the time – there have been thousands of variations to this coronavirus since it emerged – and there is nothing to suggest this causes more serious illness or will hamper the effectiveness of the vaccine.
The prime minister announced 350,000 people had been given the first dose of the vaccine in the first two weeks of the programme.
In the coming weeks, the number of GP-led vaccination clinics should increase six-fold, while approval of a second vaccine made by Oxford University could pave the way for mass vaccination centres to be set up in sports stadiums and conference centres.
That could see two million people a week being vaccinated. Within a matter of months all the over-65s could have been offered a jab. This could then start to feel very different.
But for now, the slog of the pandemic continues – and for many it just got harder.

Mr Johnson said analysis from New and Emerging Respiratory Virus Threats Advisory Group (Nervtag) suggests the new variant could increase the R number – or reproductive rate of the virus – by 0.4 or more.
Although there is "considerable uncertainty", it may be up to 70% more transmissible than the old variant, he said.
England's Chief medical officer, Prof Chris Whitty, said that while the new variant of coronavirus will make things much worse, if the vaccine works against it there was room for optimism.
He has previously said there is no current evidence to suggest the new variant causes a higher mortality rate or that is affected any differently by vaccines and treatments.
Speaking at the Downing Street briefing, he added: "I think this is a situation which is going to make things a lot worse, but there are some really optimistic things if you look once we get the vaccine out, assuming the vaccine works against this, which at the moment is the working assumption."
Mr Johnson revealed that 350,000 people in the UK have so far received their first dose of the Covid-19 vaccine.
Sir Patrick Vallance, the government's chief scientific adviser, urged the public to assume they might be infectious when considering meeting others over Christmas.
Labour leader Sir Keir Starmer said "millions of families will be heartbroken by having Christmas plans ripped up".
This week he called for the government to "review" and "toughen up" the planned relaxation of Covid restrictions over Christmas.
"Today's announcement will only lead to confusion when people need certainty," he said.
Mark Harper, the chairman of the Covid Recovery Group of Tory MPs, which has been highly critical of the government's strategy, called for Parliament to be recalled so MPs could debate and vote on the changes.
"This is a very sad day," he said. "Lockdowns and increasingly severe tiered restrictions have failed in their goal of slowing the transmission of Covid."
British Chambers of Commerce director general Adam Marshall said: "Christmas was already cancelled for many businesses, but even more will now suffer as a result of this last-minute decision.
"What support will there be for companies whose cash flow projections have once again been thrown into chaos?"
NHS Providers chief executive Chris Hopson said hospital trust chiefs had wanted tough restrictions to curb infection rates.
"These changes were inevitable given how rapid the infection rates have been rising in London, south-east and parts of the east of England due to the new variant," he said.
Source: BBC