Hospitals in the south of England say they have seen a "real rise in pressure" as the number of Covid patients needing treatment increases.
Saturday was described as one of London Ambulance Service's busiest in history amid the rapid spread of a new variant.
The service and at least two others have urged people to call 999 only if there is a serious emergency.
Hospitals in Wales and Scotland are also reporting services being stretched by the impact of coronavirus.
The president of the Royal College of Emergency Medicine said she saw "wall to wall Covid" when she worked at one London hospital on Christmas Day.
Dr Katherine Henderson told BBC Breakfast there was a "great deal of difficulty" getting patients into wards.
She added: "The chances are that we will cope, but we cope at a cost – the cost is not doing what we had hoped, which is being able to keep non-Covid activities going.
"It is always challenging in winter, nobody would say that it wasn't, but at the moment the level of patient need is incredibly high."
The chief executive of Homerton hospital in east London urged people to comply with the tier four restrictions in force.
In a tweet, Tracey Fletcher wrote: "We are extremely busy… our nurses and doctors are incredibly stretched caring for very sick patients. No-one should underestimate the impact the infection can have."
Public Health Wales' Dr Giri Shankar said the system was under enormous and unprecedented pressure, with large numbers of patients – and staff sickness – creating an "incredibly challenging" situation.
And doctors have warned Scotland's health system is "severely stretched".
Prof Jackie Taylor, president of the Royal College of Physicians and Surgeons of Glasgow, said the issues faced by hospitals in southern England were similar to those experienced in Scotland in October and November.
But she said: "We are still seeing significant amounts of patients with Covid and large amounts of standard respiratory infections and other emergency that we see at this time of year that mount up to our standard winter pressures."
On Sunday, some 30,501 infections and 316 deaths were recorded in the UK.
But the true scale will be higher, as Scotland is not releasing data around deaths between 24 and 28 December, while Northern Ireland is not providing either case or death data.
There were 21,286 people in hospital with coronavirus across the UK on December 22 – the last day for which data is available – according to official government figures.
The BBC has been told the London Ambulance Service (LAS) received as many emergency calls on 26 December as it did at the height of the first wave of Covid-19.
The 7,918 calls it received was up more than 2,500 on the same day last year. An LAS memo said the rising demand was down to the "rapid spread of the new variant of the Covid-19 virus".
Figures seen by the BBC show at one London hospital on Sunday morning, ambulance crews were typically waiting nearly six hours to hand over patients to staff.
One paramedic told the BBC that some patients had been treated in ambulance bays because of a shortage of beds and staff were finding the whole situation "very stressful".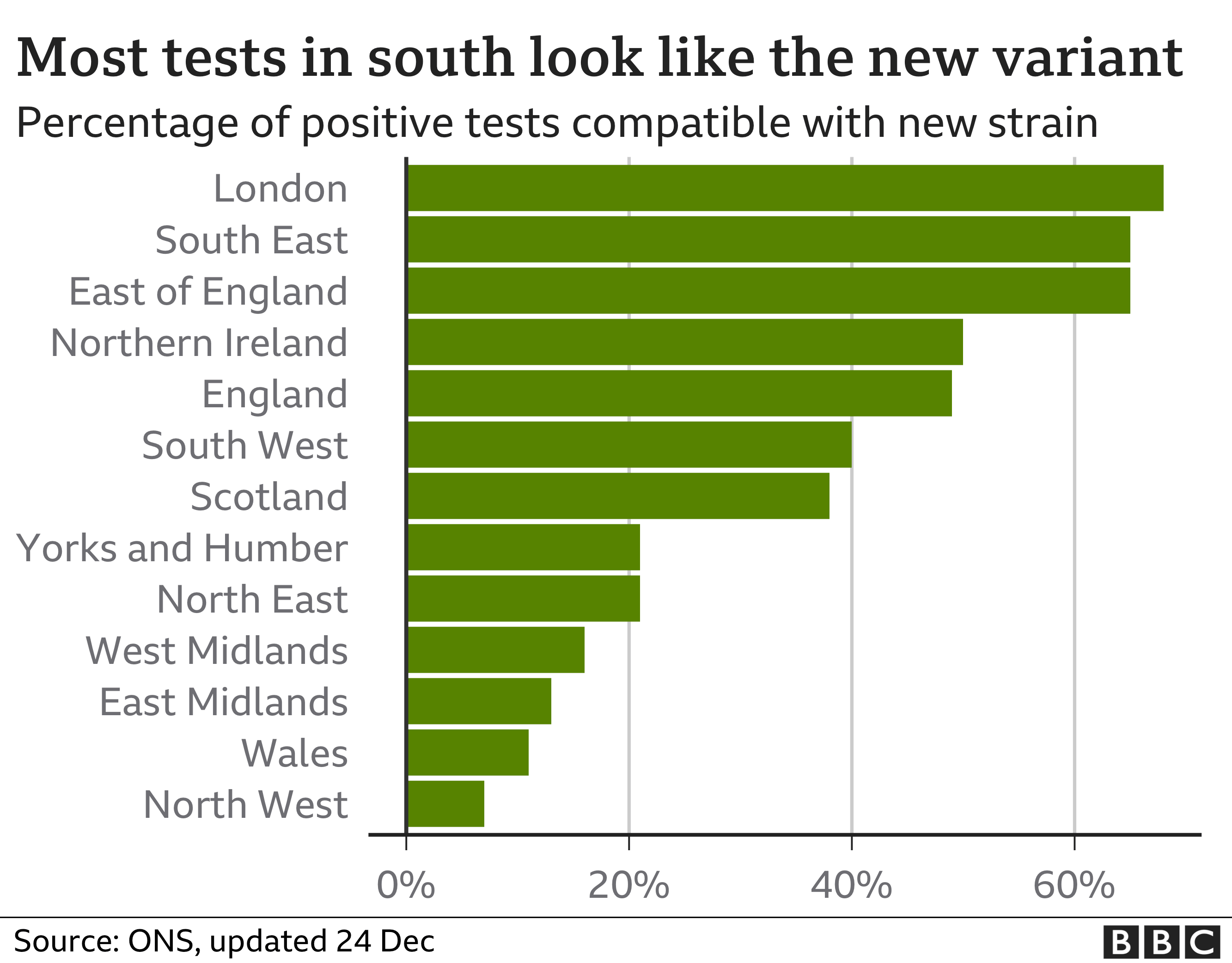 LAS said demand had been rising "sharply" in the past weeks, while similar pressures are also being reported in other parts of southern England.
The South Central Ambulance Service – which covers Berkshire, Buckinghamshire, Oxfordshire and Hampshire – asked people only to dial 999 in a "life-threatening or serious emergency".
And the South East Coast Ambulance Service – covering Kent, Surrey and Sussex – has asked the public to consider other options before calling 999.
Speaking to the BBC on Sunday, Saffron Cordery, deputy chief executive of NHS Providers, which represents hospital trusts in England, "many more" people were coming into hospitals with Covid, as well as other conditions.
"The public should be under no illusions that this is one of the most challenging times for the NHS," she said.
"We're seeing a real rise in the pressure for hospital services, but also other types of NHS services as well."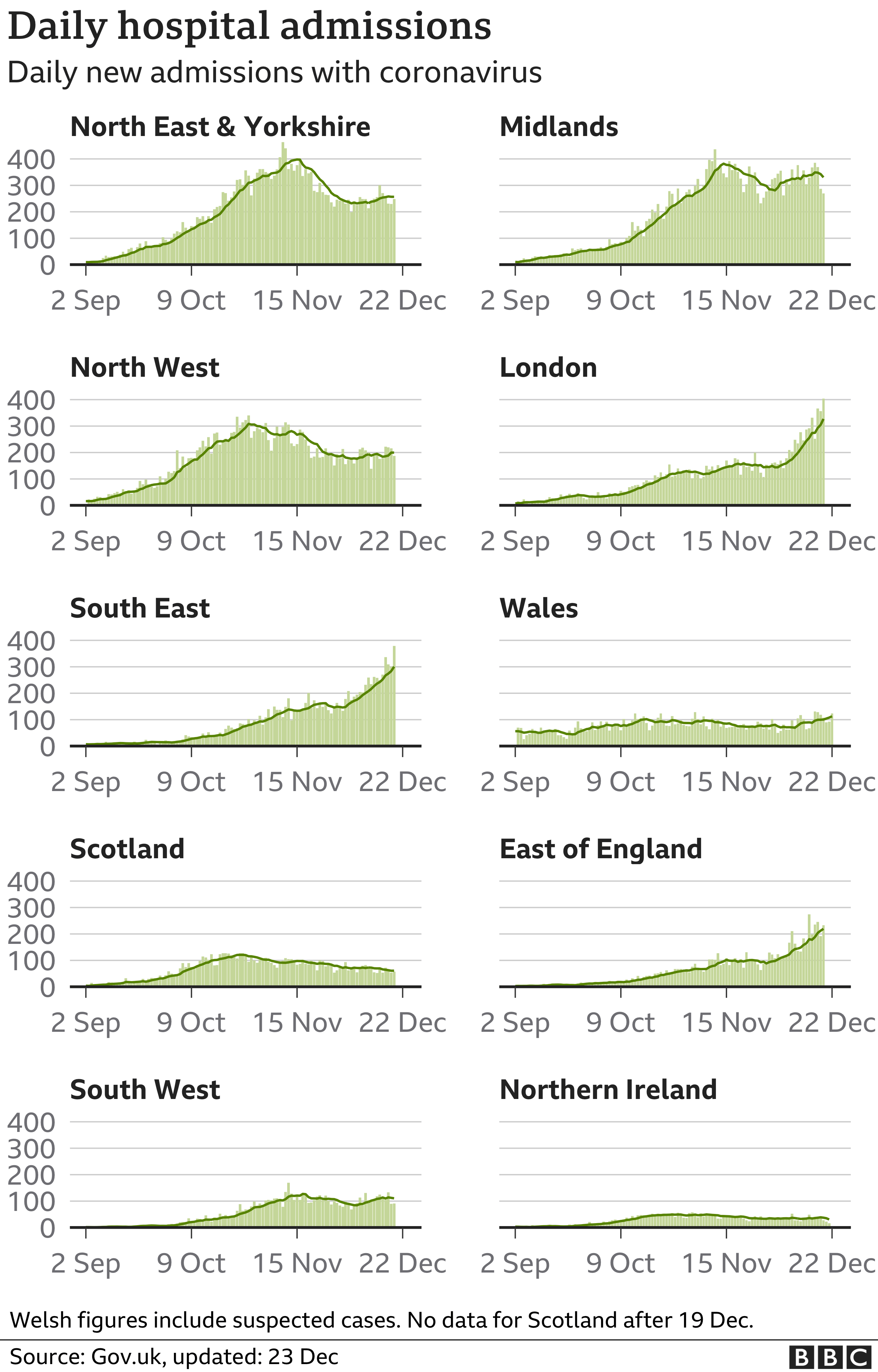 Mainland Scotland entered level four restrictions from Saturday for three weeks, and a similar stay-at-home order is also in place in Wales.
Northern Ireland has also entered a new six-week lockdown. The first-week measures are the toughest yet, with a form of curfew in operation from 20:00 GMT, shops closed from that time and all indoor and outdoor gatherings prohibited until 06:00.
Infection rates in England are currently highest in areas of Essex, London and other parts of the South East.
Parts of Essex have recorded the highest weekly coronavirus case rates since the pandemic began. In the week leading up to 21 December, Brentwood, Epping Forest and Thurrock all had rates of more than 1,350 cases per 100,000 people.
It comes as 24 million people – or 43% of England's population – are now living under the harshest tier four rules after more than six million people in east and south-east England went into the highest level of restrictions on Saturday. The rules include a "stay-at-home" order.
Meanwhile, NHS England said coronavirus vaccinations had been paused on Christmas Day and over the weekend but would resume on Monday.
The vaccine from Pfizer/BioNTech was the first to be given approval in the UK.
Prof Andrew Pollard, the chief investigator of the vaccine developed by the University of Oxford and AstraZeneca, said they were hoping regulators would soon give their approval for its use.
He told BBC Radio 4's Today programme: "They've got thousands of pages of data to review and they need to be given the time and space to do that."
Prof Pollard added: "There's been an enormous amount of work going between the suppliers of vaccines – in our case AstraZeneca – and government – to make sure that all of that pipeline is managed hour by hour to make sure that the distribution can happen."
Source: BBC