The UK has reported another 55,892 daily cases of coronavirus, the highest figure on record.
And another 964 people died within 28 days of a positive test, only slightly down on the 981 on Wednesday.
It comes as Health Secretary Matt Hancock appealed to everyone to "take personal responsibility this New Year's Eve and stay at home".
He said he knew how much had been sacrificed this year but, with the NHS under pressure, "we cannot let up".
On Thursday, just after midnight, 20 million more people in England were placed under the toughest restrictions and told to stay at home.
The new restrictions mean 44 million people, or 78% of the population of England, are now in tier four, where non-essential shops, gyms, cinemas and hairdressers have to stay shut.
Public Health England medical director Dr Yvonne Doyle said Christmas week had seen a worrying rise in cases – particularly among adults in their 20s and 30s.
"We have all had to make huge sacrifices this year, but please ensure that you keep your distance from others, wash your hands and wear a mask," she said.
"A night in at new year will mean you are significantly reducing your social contacts and can help stop the spread of the virus."
The 981 deaths recorded on Wednesday was the highest daily figure since April.
Much of the rise in cases has been blamed on the spread of a new variant, which scientists believe is able to transmit more easily.
It was initially concentrated in the London, the South East and eastern England, but Mr Hancock has said it is now responsible for the "majority" of new cases across the UK.
With the number of Covid patients in hospitals increasing, some are being moved long distances for intensive care.
Dr Michael Marsh, NHS England medical director for the south-west region, said patients had come from Kent to Plymouth and Bristol, where services were "less stretched".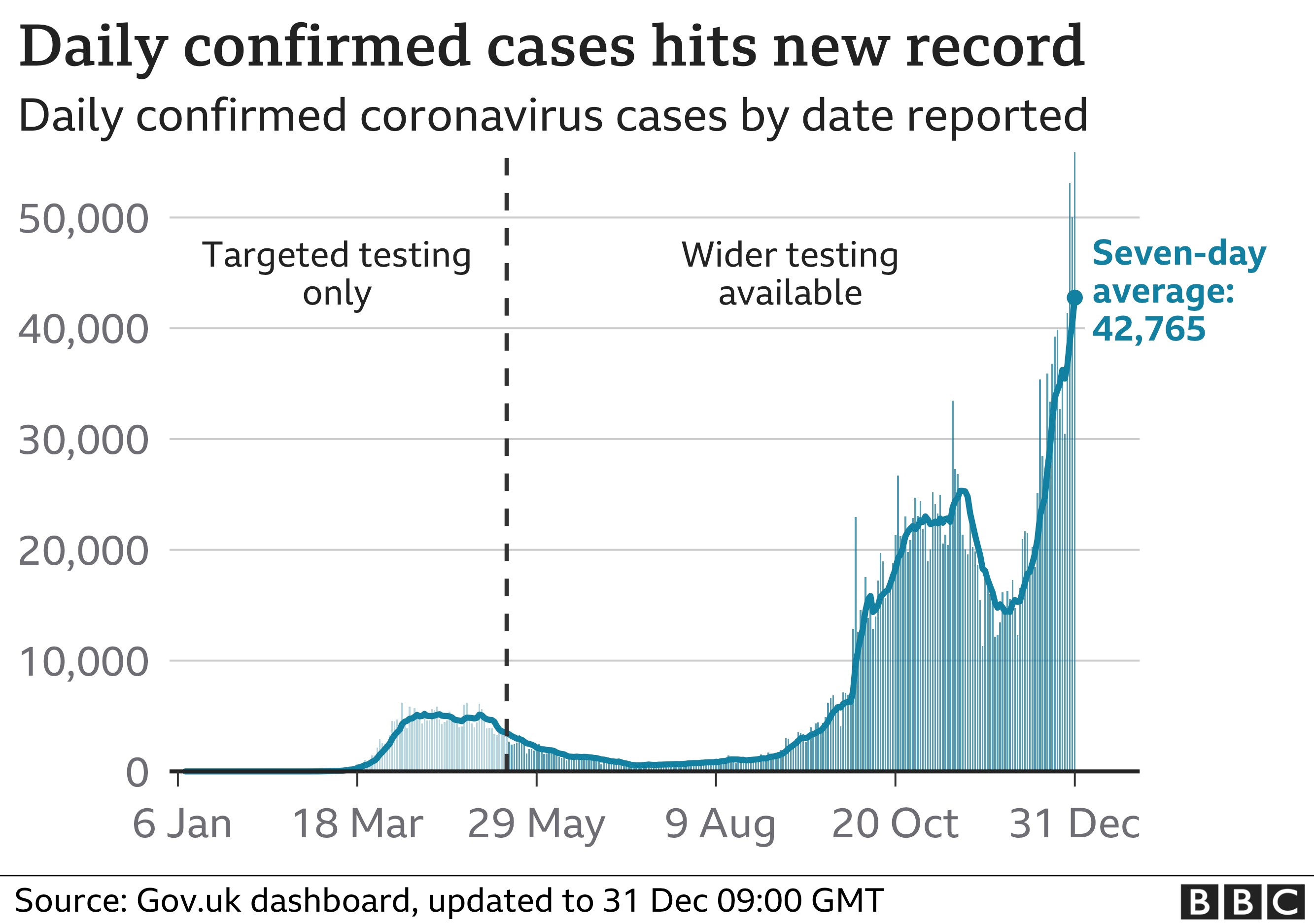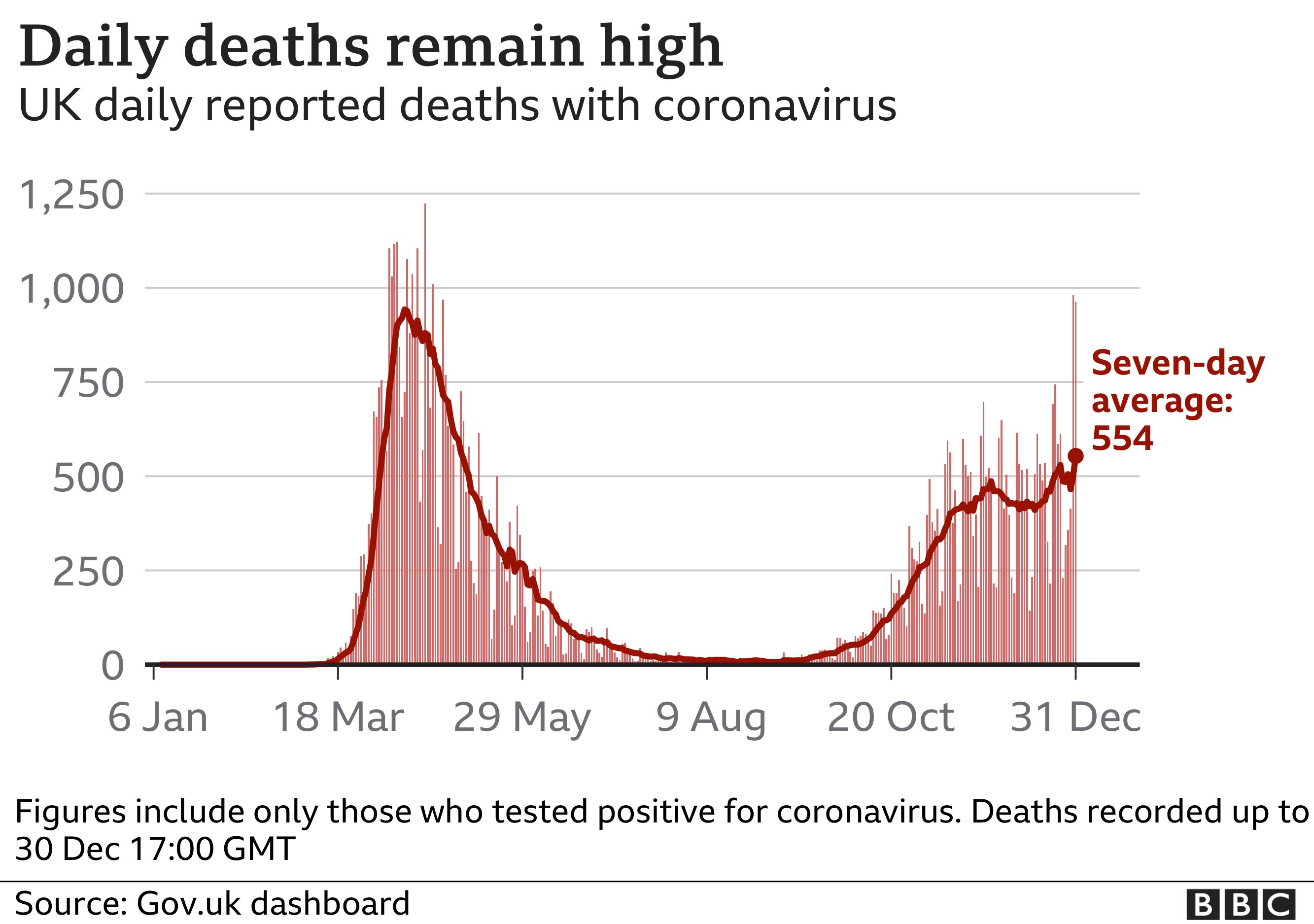 The latest NHS Test and Trace figures show 232,169 people tested positive for Covid in England at least once in the week to 23 December, up 33% on the previous week and the highest weekly rise on record.
Covid case rates are continuing to rise in all regions of England – with London's rate at 735.5 per 100,000 people in the seven days to 27 December, up from 711.9 the previous week, the latest Public Health England report showed.
Eastern England saw the second highest rate, 551.3 up from 510.8, followed by south-east England at 450.6, up from 427.4.
Meanwhile, Scotland recorded 2,622 new Covid cases in the past 24 hours – a record high for the third day in a row.
Public Health Wales reported a further 1,831 cases in Wales, with the highest case rates in Bridgend (825.6 for every 100,000 people) and Merthyr Tydfil (754.2).
And Northern Ireland has seen another 1,929 cases in the last 24 hours, as hospitals come close to capacity with latest figures showing only six empty beds.
Some hospital trusts in the south of England have also been reporting that they are under extreme pressure because of increasing numbers of Covid patients.
On Wednesday, Essex and Buckinghamshire declared major incidents, while an intensive care doctor at London's Whittington Hospital said they were facing a "tsunami" of Covid cases.
Prof Hugh Montgomery said people who did not follow social distancing rules or wear masks "have blood on their hands".
The NHS said London's Nightingale Hospital had been "reactivated" and was ready to admit patients, in anticipation of rising pressures from the spread of the new variant.