Boris Johnson has said there is "no question" the government will announce stricter measures to prevent the spread of coronavirus "in due course".
He predicted "tough, tough" weeks to come, with more than three-quarters of England's population already under the highest – tier four – restrictions.
On Sunday, the UK recorded more than 50,000 new confirmed Covid cases for the sixth day in a row.
Labour is calling for new England-wide restrictions to come in immediately.
Leader Sir Keir Starmer said it was "inevitable" more schools would have to close to lessen the spread of coronavirus.
Health Secretary Matt Hancock told BBC Radio 4's Today programme the "old tier system" was "no longer strong enough" to contain the spread of the virus.
Asked what further restrictions would be put in place, Mr Johnson said: "What we have been waiting for is to see the impact of the tier four measures on the virus and it is a bit unclear, still, at the moment.
"But if you look at the numbers, there is no question that we are going to have to take tougher measures and we will be announcing those in due course."
He said the faster-spreading coronavirus variant that has developed in south-eastern England required "extra-special vigilance".

The old tier system is no longer enough…the figures are only heading in one direction.
These are the words of the health secretary and a health minister.
Boris Johnson says stricter measures are coming, which immediately sparks the questions "when?," and "what are you waiting for?"
Downing Street wants to push a tougher message on adherence to the current rules in England while it assesses the latest Christmas data, but is coming under growing pressure to act sooner.
With Nicola Sturgeon about to go further in Scotland and the Labour leader calling for an immediate national lockdown, it's difficult to see how the prime minister can wait much longer.

BBC science editor David Shukman said new measures could include limits on outdoor exercise and a return to the two-metre (rather than one-metre-plus) social distancing rule, as applied during the first lockdown last year.
Speaking on a visit to Chase Farm Hospital in north London, Mr Johnson said closing primary schools must remain a "last resort", adding that the "risk to kids" was "very, very small".
Secondary schools in England are currently closed until 18 January, except for pupils in their final GCSE and A-level years, who are due to return on 11 January.
Asked whether they could remain closed, Mr Johnson said: "We are keeping things under review."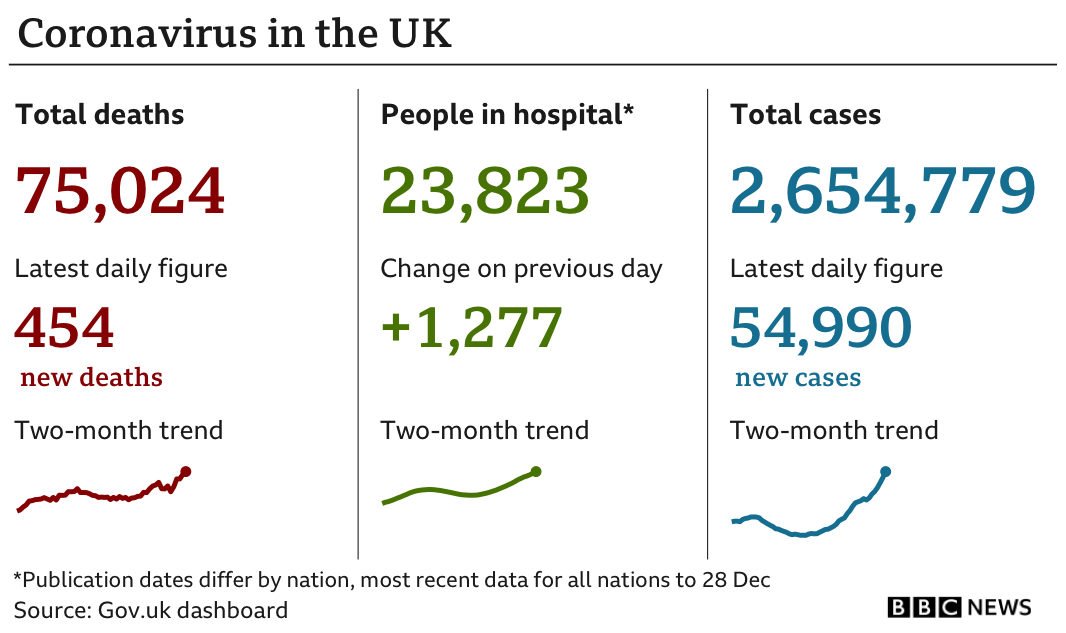 An additional 454 deaths within 28 days of a positive test result were reported across the UK on Sunday, meaning the total by this measure is now above 75,000.
More than 500,000 doses of the Oxford-AstraZeneca Covid-19 vaccine are available for use, with the Pfizer BioNTech having been in use for almost a month.
A further 20 million people in England were added to tier four on 31 December.
It means 78% of the population of England is now in tier four, under which non-essential shops are closed and people can only leave their homes for a certain number of reasons.
Source: BBC