People in England are being told to act like they have got Covid as part of a government advertising campaign aimed at tackling the rise in infections.
Boris Johnson said the public should "stay at home" and not get complacent.
On Friday 1,325 deaths within 28 days of a positive Covid test were recorded in the UK – the highest daily figure yet – along with 68,053 new cases.
Government sources say there is likely to be more focus from police on enforcing rather than explaining rules.
"With over 1,000 people dying yesterday it's more important than ever everyone sticks to rules," a source told the BBC.
As cases and deaths soar, the government is releasing its advertising campaign, which will be shared across television, radio, newspapers and on social media.
England's chief medical officer, Prof Chris Whitty, says in the advert: "Vaccines give clear hope for the future, but for now we must all stay home, protect the NHS and save lives.
Prime Minister Boris Johnson says hospitals are "under more pressure than at any other time since the start of the pandemic", with infection rates increasing at an "alarming rate" across the country and the NHS under "severe strain".
It comes after London's mayor Sadiq Khan said the spread of coronavirus was "out of control" as he declared a "major incident" in the capital on Friday.
Such an incident is an emergency that requires the implementation of special arrangements by one or all of the emergency services, the NHS or the local authority.
It means the emergency services and hospitals cannot guarantee their normal level of response.
While the government seeks to reinforce its "stay at home" message, some police forces have faced criticism for their approaches to tackling potential breaches of coronavirus restrictions.
Derbyshire Police has said it will review fixed penalties issued during the new national lockdown after two women were ordered to pay £200 each after driving five miles from their home for a walk on Wednesday.
Susan Michie, a professor of health psychology at University College London, said "more support and enablement" was needed for people to adhere to the regulations, for example support to help people self-isolate, rather than punishment.
Prof Michie, who sits on a subcommittee of the government's Scientific Advisory Group for Emergencies, also said the current restrictions were "too lax".
"When you look at the data, it shows that almost 90% of people are overwhelmingly adhering to the rules despite the fact that we're also seeing more people out and about," she told BBC Radio 4's Today programme.
However, she said in comparison to the first lockdown last spring the restrictions were less strict, with more people allowed to go out to work and children's nurseries open, meaning public transport is busier.
The number of people travelling by public transport in London has decreased since the latest national lockdown began, with tube journeys now at 18% pre-pandemic demand and bus journeys at 30%, according to figures from Transport for London.
However, during the first lockdown passenger numbers fell below 10% at some points.
Prof Michie added that the winter season posed extra challenges because the virus survives longer in the cold and people spend more time indoors, where the virus can spread more easily.
Combined with the more transmissible new variant, she said "we should have a stricter rather than less strict lockdown than we had back in March".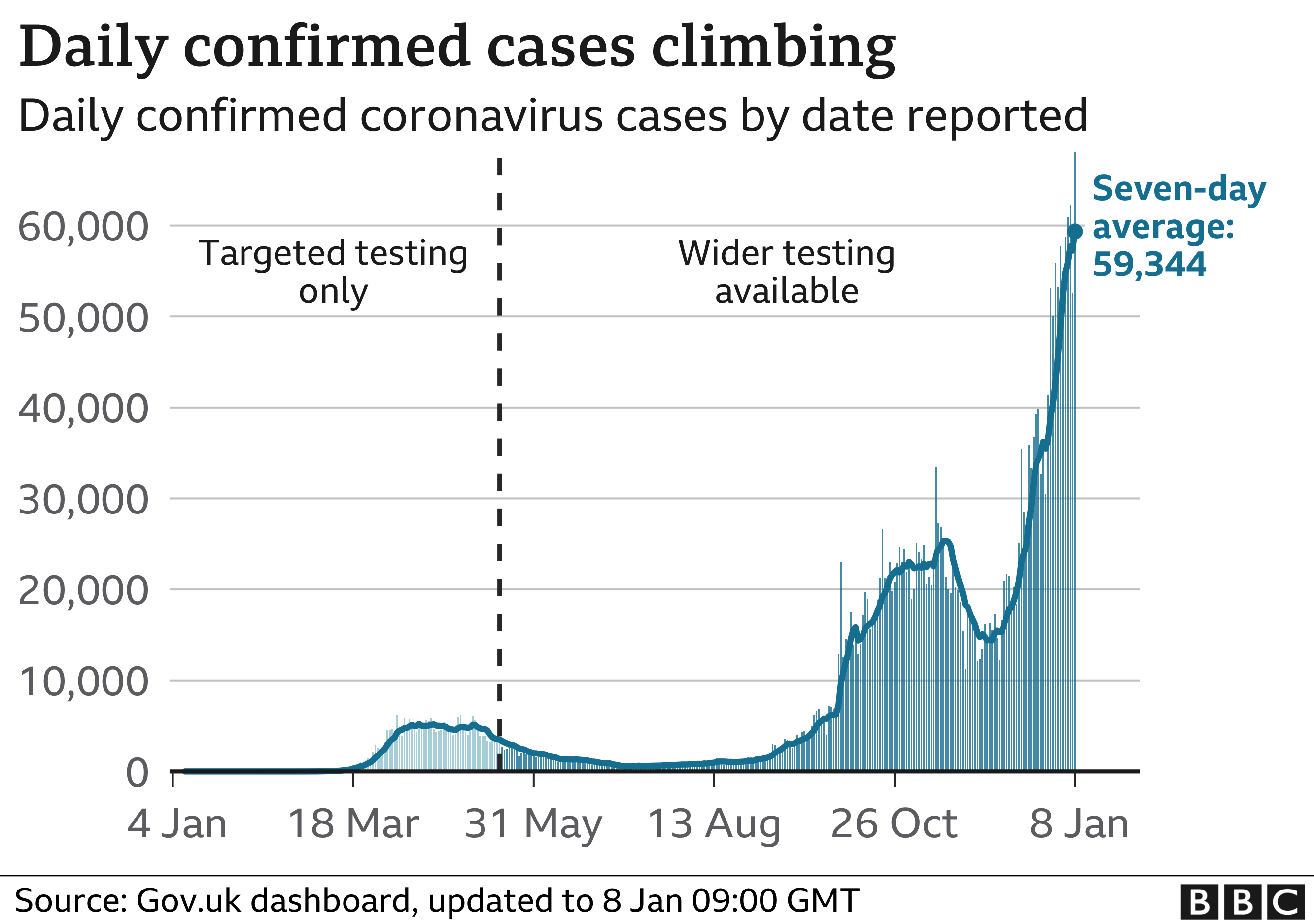 Dr Adam Kucharski, another scientist advising the government and an associate professor of infectious disease epidemiology at the London School of Hygiene and Tropical Medicine, said that because the new variant was more transmissible "each interaction we have has become riskier than it was before".
"So even if we went back to that kind of last spring level of reduction in contacts we couldn't be confident that we would see the same effect that we saw last year because of this increased transmission," he said.
England, much of Scotland, Wales and Northern Ireland continue to be under strict national measures, with stay-at-home orders in place for most people.

There is considerable concern in government about the continued spread of the virus.
No 10 believes more needs to be done to emphasise how severe the current situation is – which is why we are getting some very stark warnings from the medical experts.
Ministers continue to praise the public – but there is also more emphasis on people taking the rules seriously, as was the case last spring when the first lockdown was imposed.
The prime minister warns people against complacency, saying: "Your compliance is now more vital than ever".

Staff at Portsmouth's Queen Alexandra Hospital are struggling to cope with an increase in the number of Covid-19 patients
Latest figures from Public Health England reveal the coronavirus infection rate in London has exceeded 1,000 per 100,000 people.
The Office for National Statistics recently estimated as many as one in 30 Londoners has coronavirus.
London councils have urged places of worship to close and the bishop of London Sarah Mullally said churches should "consider the seriousness of the situation" before holding in person services this weekend.
Dr Simon Walsh, an emergency care doctor in London, told BBC Breakfast all London hospitals had "effectively been working in major incident mode for the last couple of weeks".
"Most hospitals have expanded their intensive care capacity to somewhere in the region of three times their normal capacity. Obviously we don't have three times the number of staff so our staff are being spread more thinly," he said.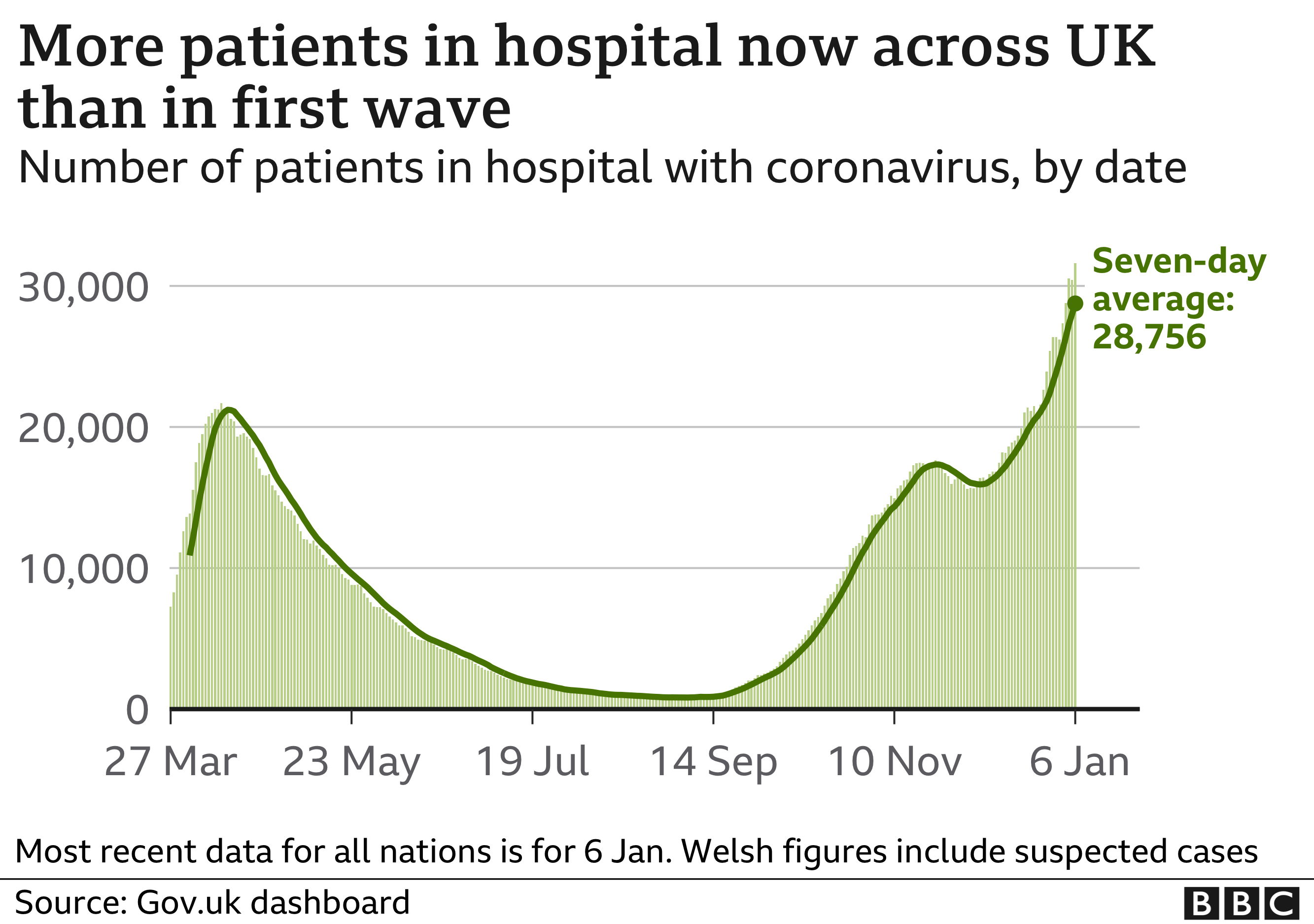 Hospitals in other parts of the UK are also under pressure.
In Wales, senior A&E nurse Sarah Fogarasy said she felt "overwhelming fear" as 13 ambulances queued at Royal Glamorgan Hospital last Saturday, with no capacity at the unit.
And Dr Justin Varney, director of public health in Birmingham, said he was "very worried" about the situation in the city, where hospital bosses have warned they don't have enough intensive care nurses to deal with the growing case load.
He warned the NHS had still not seen the impact of the rise in cases following the relaxation of restrictions over Christmas "so it is going to get a lot, lot worse unless we really get this under control".
Source: BBC News