Hundreds of people rioted in Brussels on Wednesday night over the death of a 23-year-old in police custody at the weekend.
Video from the scene shows King Philippe's car being hit by projectiles as it passed through the area.
A police station was reportedly briefly set on fire during the unrest, which saw local streets vandalised.
A police spokeswoman told the AFP news agency they had made several arrests and said four officers were injured.
What was Brussels protest about?
Police said about 500 people gathered Wednesday close to Brussels-North police station over the death of a person identified in Belgian media as Ibrahima B.
The man was arrested on Saturday evening after fleeing police who were checking on a group suspected of violating local coronavirus measures.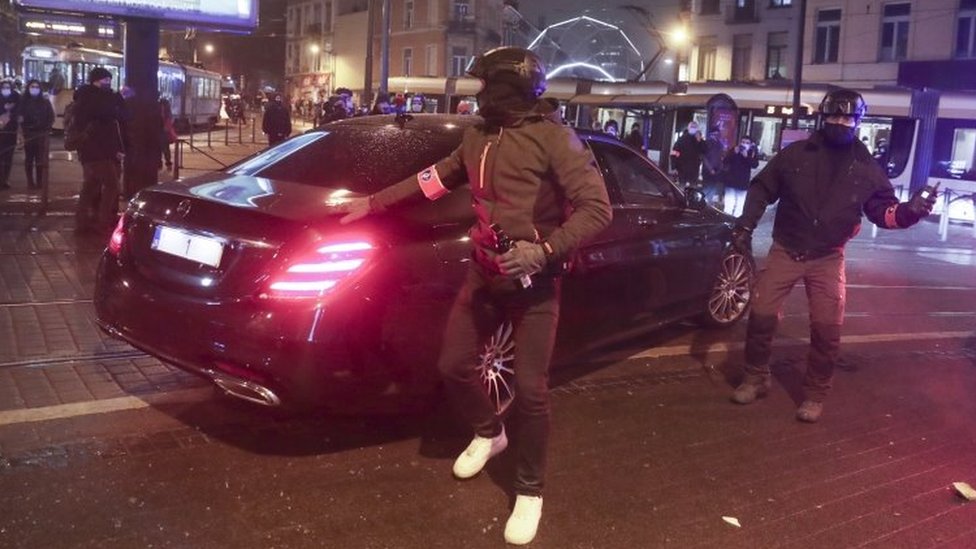 Officials say he lost consciousness after being taken to a police station and was transported to hospital, where he died at 20:22 local time (19:22 GMT) just over an hour after his arrest.
The reasons for his death remain unclear but a police oversight body has opened an investigation, according to the Brussels public prosecutor's office.
On Wednesday afternoon protesters marched to a police station at the centre of the inquiry calling for the truth about the death, before the demonstration escalated into violence.
Interior Minister Annelies Verlinden has condemned Wednesday's events as "totally unacceptable" and sought to assure the public over the investigation.
"We will follow that up and, if necessary, take the necessary steps to also condemn misconduct by the police," Ms Verlinden was quoted by the Brussels Times as saying. "But today, there is no reason to do so, and therefore there is certainly no reason for this kind of violence."
Source: BBC