Yorkshire's ambulance trust has declared a "major incident" due to high demand and heavy snow causing a "severe impact" on operations.
The service asked people only to contact it in a "serious or life-threatening emergency" due to driving conditions.
A Covid vaccination centre in Barnsley was closed due to snow, with patients told to await new appointments.
Covid testing centres in Kirklees and Bradford also suspended operations.
A yellow Met Office warning for snow and ice is in force until 21:00 GMT.
Mark Millins, strategic commander at Yorkshire Ambulance Service, said: "Due to the very snowy conditions across West, South and North Yorkshire, driving conditions are very difficult and many roads are gridlocked so this is having a severe impact on our operations.
"Our dedicated staff are working extremely hard to reach patients as quickly and safely as possible but, understandably, the hazardous driving conditions and blocked roads mean that it is taking us longer than normal in the worst-hit areas."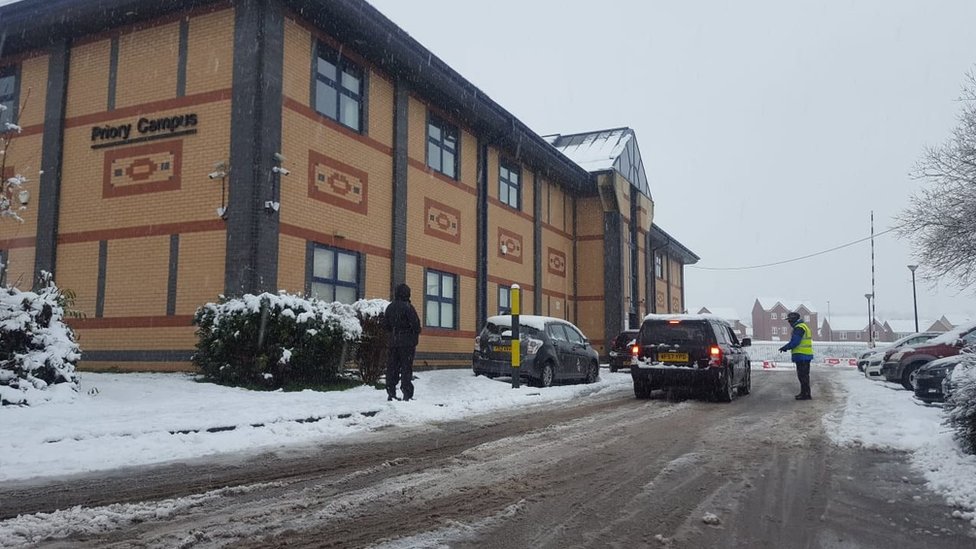 Barnsley's Clinical Commissioning Group issued a tweet advising that it had postponed all Covid vaccinations at the Priory Campus from 15:00 on Thursday.
It asked those due to receive vaccinations after this time not to travel, and said patients would be contacted with a rescheduled appointment.
The group said its two remaining centres at Goldthorpe and Apollo Court, in Dodworth, remained open, but those unable to attend would also get a new time and date.
In Calderdale, West Yorkshire, the local council said it had cleared routes to GP surgeries where Covid vaccinations were administered, and all centres in the borough were open.
But it advised those with appointments to travel only if they felt safe to do so, according to the Local Democracy Reporting Service.
Lindsay Gollin, a GP practice manager in Leeds, said staff were "frantically inviting" people to come and fill more than 100 cancelled appointments.
NHS Leeds Clinical Commissioning Group said vaccination centres were still open, but told those with appointments only to travel "if they feel safe and confident in doing so".
In Newcastle, which has also had heavy snow, older people were urged "to rebook for another day when the weather is better".
Health bosses said there was "no need to risk travelling in the bad weather".
About 300 schools in West Yorkshire closed to all pupils, and about 50 in both North and South Yorkshire.
Due to coronavirus restrictions schools are only open to children considered to be vulnerable and those whose parents are key workers.
A large snowball fight on Woodhouse Moor in Leeds was criticised for the apparent lack of social distancing after footage was posted on social media.
Heavy snow has also fallen in parts of Scotland and the north-east of England, causing significant disruption and hazardous driving conditions.
Difficult road conditions in Sheffield also meant a halt to the Libby Squire murder trial as three jurors were unable to get to the court.
Andrew Sudron, deputy head at Springwater School in Starbeck, near Harrogate, North Yorkshire, said with snow laying heavily on the ground they had to shut.
"I came in earlier this morning and there was already a lot of snow on the ground so that factored into our decision to close the school today," he added.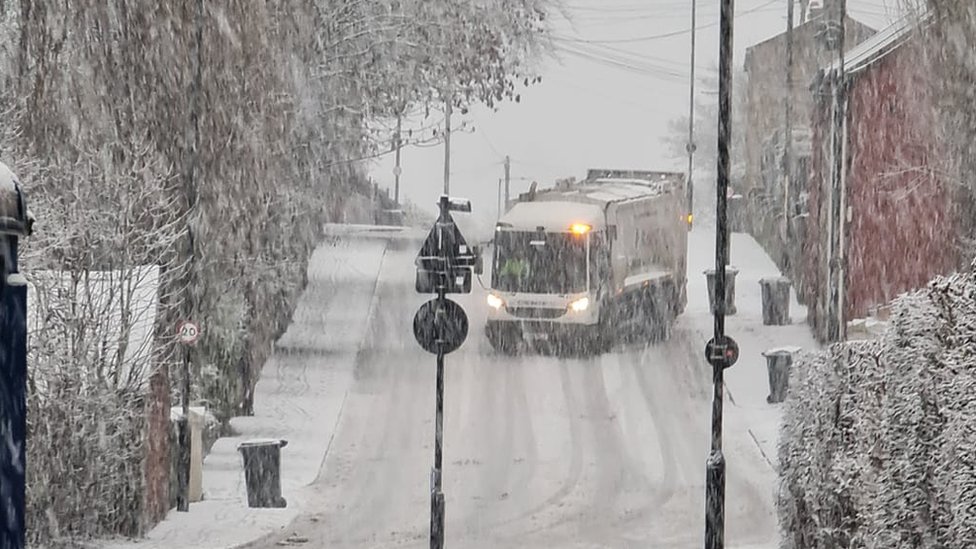 The snowfall has also resulted in a number of delays and cancellations to bus services in parts of the region.
First West Yorkshire tweeted it was experiencing disruption across its network and Arriva Yorkshire also said there would be issues with some of its services.
Stagecoach Yorkshire said its services in Sheffield were being suspended due to the road conditions.
Many motorists have reported hazardous driving conditions on many routes.
Phil Airey said his usual 30-minute commute from Boston Spa to Harrogate took 90 minutes due to the poor conditions.
"The gritters have been doing their job but any sort of hill then it's not very good and if you go off onto the little roads well they are not good at all."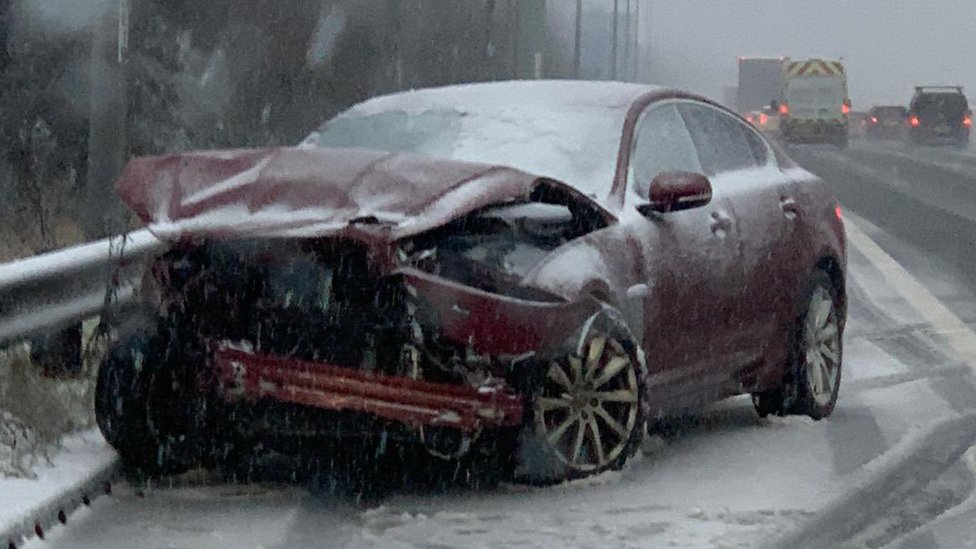 Police said drivers should take care and allow extra time on many routes.
West Yorkshire's road policing unit said it was dealing with a number of collisions and said its message to drivers was "stay at home".
The North Yorkshire force said the A59 was blocked near Skipton due to a number of vehicles getting stuck in the snow and the county council said the A170 was closed at Sutton Bank.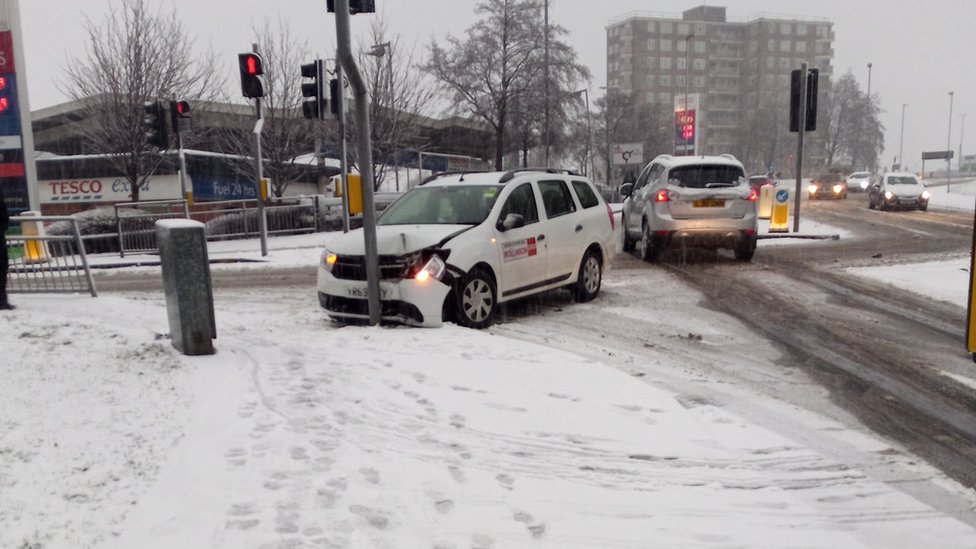 Police forces have reminded people that they should only be travelling for essential reasons, due to the continuing national coronavirus lockdown.
Leeds City Council said it was suspending its refuse collections due to "unsafe driving and walking conditions".
It said staff would continue to grit primary routes in the city and at key areas such as the city's coronavirus vaccination centres.
Sheffield City Council said it was also prioritising areas around vaccination and testing centres to support vehicle and pedestrian access.
Source: BBC