President Joe Biden is set to sign 10 executive orders to boost the fight against Covid which has ravaged the US.
Vaccination will be accelerated and testing increased. Emergency legislation will be used to increase production of essentials like masks.
In a break with former President Donald Trump, the policy stresses a national strategy rather than relying on states to decide what is best.
The moves comes a day after Mr Biden was sworn in as the 46th president.
The Trump administration was widely accused of failing to get to grips with the pandemic.
In terms of total deaths from coronavirus, the US is the worst-hit country with more than 406,000 lives lost according to Johns Hopkins University. Nearly 24.5 million have been infected.
What's in the plan?
In his inauguration speech, Mr Biden warned that the coronavirus pandemic in the US was entering its "deadliest period".
Mr Biden's Covid-19 task force co-ordinator, Jeff Zients, told reporters that under Mr Trump there was no strategy at federal level and a comprehensive approach was lacking.
"As President Biden steps into office today, that all changes," he said.
The administration unveiled a seven-point plan which included efforts to facilitate effective distribution of vaccines and reliable access to testing.
"The American people deserve an urgent, robust and professional response to the growing public health and economic crisis caused by the coronavirus (Covid-19) outbreak," an introduction to the plan said.
It said Mr Biden believed the government "must act swiftly and aggressively to help protect and support" essential workers and the most vulnerable.
The aim is to give 100 million vaccine doses by the end of April, and reopen most schools safely within 100 days.
Vaccine centres will be established at stadiums and community facilities.https://emp.bbc.co.uk/emp/SMPj/2.36.7/iframe.htmlmedia captionPresident Biden: "Democracy is fragile, and at this hour, my friends, democracy has prevailed"
There will be more funding for state and local officials to help tackle the pandemic, and a new office will be established to co-ordinate the national response.
The Defense Production Act will be used to speed up production of personal protective equipment and essential supplies needed for vaccine production. Mr Trump used the same piece of legislation to compel the production of items in short supply last year.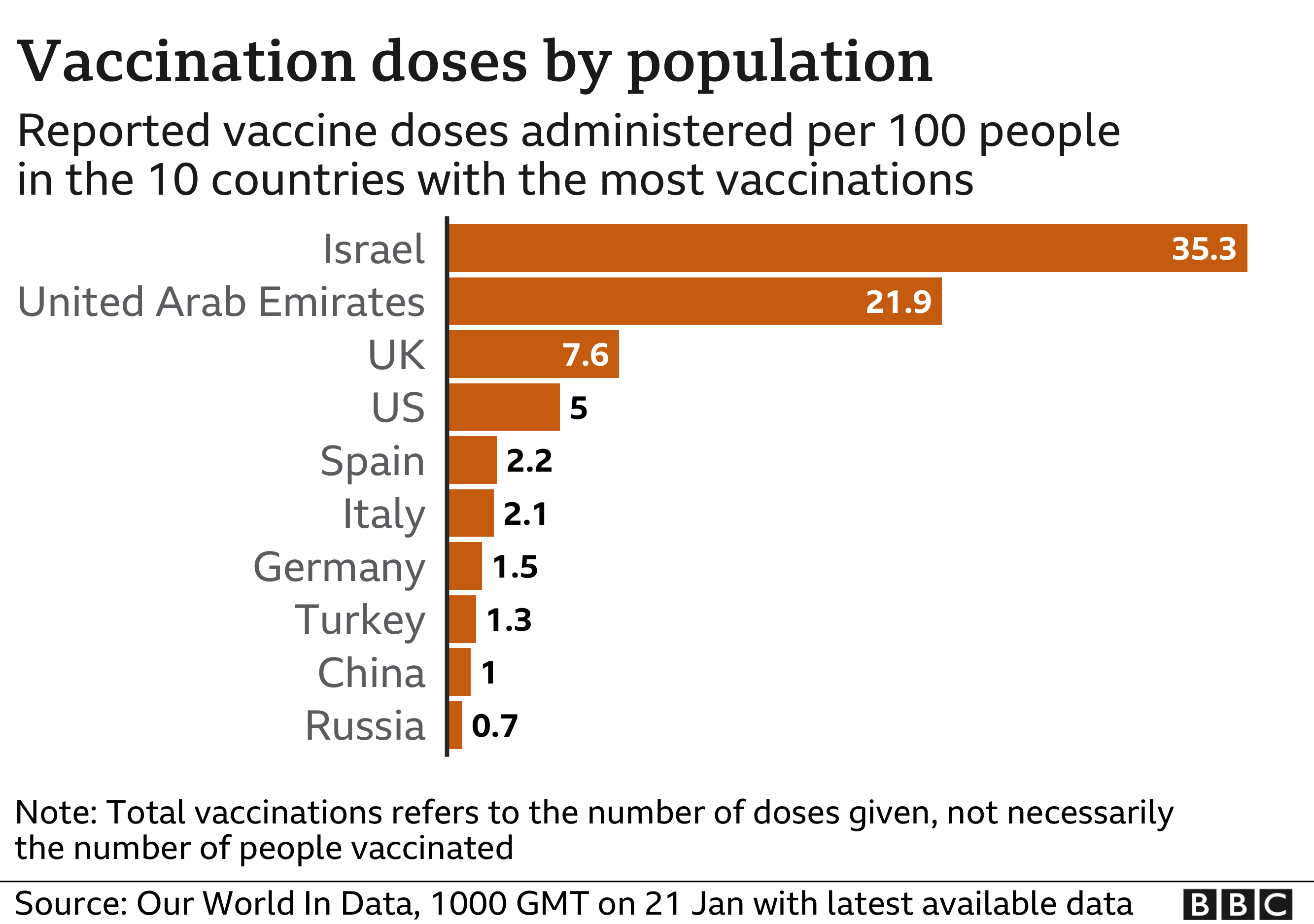 On top of the already announced rules on wearing masks and social distancing on all federal government property, face coverings will become mandatory on many planes and trains.
"What we're inheriting is so much worse than we could have imagined," Mr Zients said.
In a further break with the previous administration, Mr Biden's chief medical adviser, Dr Anthony Fauci, said the US would join the Covax scheme designed to deliver Covid vaccines to poor countries.
Speaking by video call to the World Health Organization in Geneva, Dr Fauci also stressed that the US would continue to provide funding for the WHO, in line with Mr Biden's move to reverse Mr Trump's decision to leave.
What happened on Wednesday?
Only hours after being sworn in, Mr Biden signed 15 executive orders, including reversing Mr Trump's policies on climate change and immigration.
Few were present to witness the oaths and ceremonies due to coronavirus restrictions.
Donald Trump, who has still not formally conceded the presidency to Mr Biden, snubbed the event in a departure from longstanding tradition.
"Democracy has prevailed," President Biden said after taking the oath of office in front of the US Capitol.
A major theme of his inauguration speech was unity after the major divisions laid bare during the Trump administration.
Mr Biden promised to be a president "for all Americans", including those who voted against him.
How have world leaders reacted?
Chancellor Angela Merkel of Germany is the latest world leader to react to Mr Biden taking office, saying "there is a much broader scope for political accord with President Biden".
She said the climate crisis, coronavirus and security were issues ready to be addressed by the US, Germany and Europe.
China reacted through its ambassador in Washington, Cui Tiankai.
"China looks forward to working with the new administration to promote sound and steady development of China-US relations and jointly address global challenges in public health, climate change and growth," he said.
Russian Ambassador to the US, Anatoly Antonov, said: "I would like to believe that a new chapter in the development of the United States of America begins today and, of course, that a new chapter in the development of Russian-American relations begins as well. At least, we have repeatedly spoken about this."
Source: BBC News