Severe weather warnings are in place across much of the UK after large parts of the country saw heavy snowfall.
The blanket of snow drew people outside for sledging and winter walks, but motorists have been warned to take extra care on icy roads with sub-zero temperatures forecast overnight.
Several coronavirus vaccination and testing centres were closed in England and Wales due to the conditions.
Police reminded the public to keep to lockdown rules while out in the snow.
Officers in Wandsworth, south-west London, encouraged people with gardens to play in the snow at home.
And police in Rutland, Leicestershire, were among several forces questioning why people were leaving their homes to go sledging.
Continuing coronavirus lockdowns across the four UK nations mean most of the population must stay at home, except for a limited number of reasons.
As well as four vaccination centres in Wales, six Covid testing centres in the West Midlands had to close due to heavy snow on Sunday.
Highways England warned that the snow had caused collisions on the M3, M27 and M25 in southern England, with the agency urging drivers to only travel if absolutely necessary.
Those using the roads for essential journeys have been urged to allow plenty of extra time for their travel and pedestrians and cyclists are also advised to be cautious.
The Met Office put a yellow weather warning for snow in place on Sunday, stretching from coast to coast in southern England and ending just south of Manchester.
It is also in place for western and northern areas of Scotland, most of Northern Ireland and all of Wales apart from Anglesey.
An amber warning for snow in Nottingham and Stoke meant travel disruption and power cuts were likely on Sunday evening.
Yellow weather warnings for ice are in place until 11:00 GMT Monday for all of Wales and Northern Ireland, northern and eastern Scotland and much of southern England and the Midlands.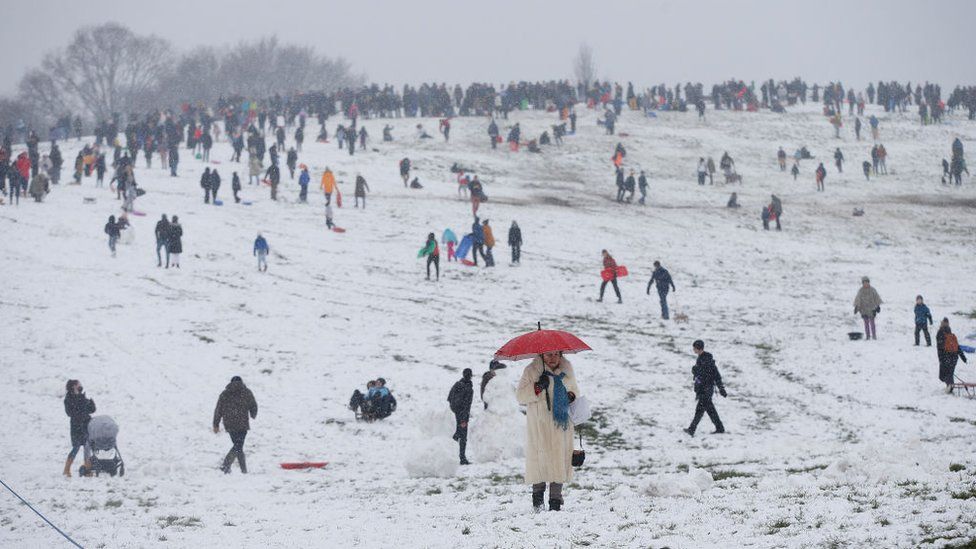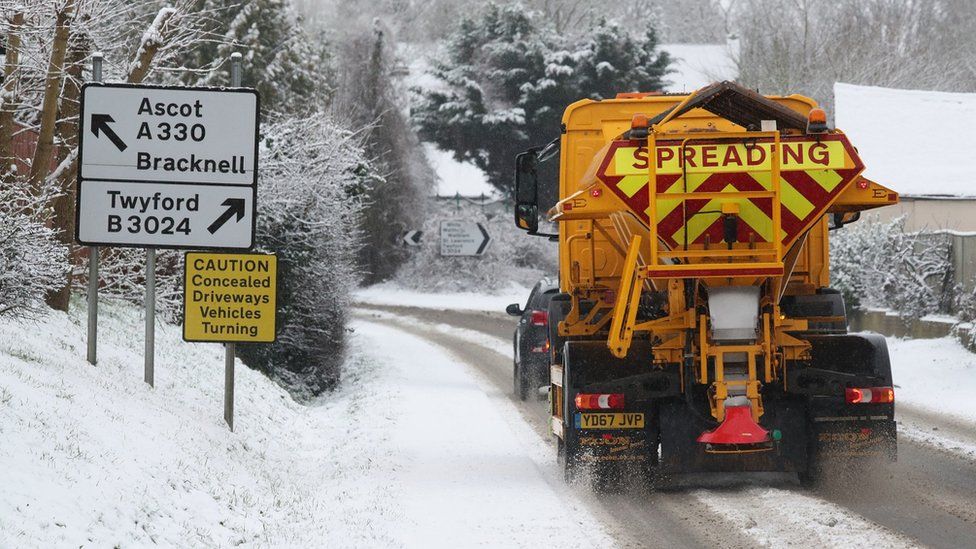 In Wales, appointments at the Bridgend, Rhondda, Abercynon and Merthyr Tydfil coronavirus vaccination centres were rescheduled for safety reasons, the Cwm Taf Morgannwg health board said.
Up to 1in (3cm) of snow was forecast to fall in most areas of Wales, with 4-6in (10-15cm) expected in the Brecon Beacons and Snowdonia.
In the West Midlands, coronavirus testing centres at Castle Vale Stadium, the Arcadian Centre and Maypole Youth Centre were closed, Birmingham City Council said.
Facilities in Moat Street, Coventry and The Place in Oakengates in Shropshire also closed, along with one in Lichfield, Staffordshire, local MP Michael Fabricant said.
And in Devon, a gritting lorry overturned on Dartmoor. Devon County Council urged people to avoid travel unless it was absolutely essential and not to travel to find snow.
Met Office forecaster Simon Partridge said a band of hail, sleet, snow and rain moved in through Wales and south-west England in the early hours before sweeping across the UK and stalling over the Midlands, which saw some of the heaviest snow.
Coleshill, near Birmingham, had seen had 3.5in (9cm) by Sunday lunchtime.
The snow clouds eased away on Sunday evening but overnight temperatures could be as low as -4C to -6C (25F to 21F) for a lot of the south of the UK, the forecaster added.
"Some localised spots, likely in the Midlands, could see it as low as -10C (14F)," he said.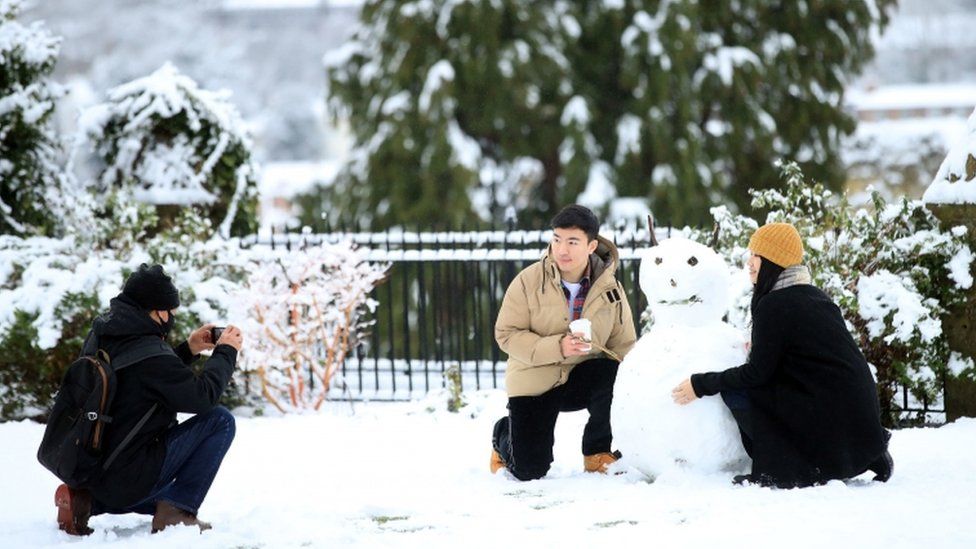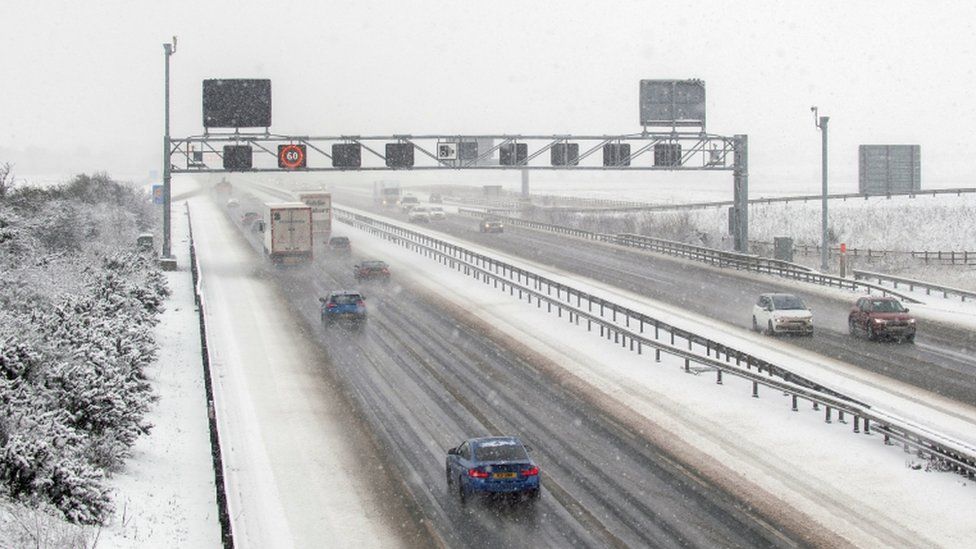 Chris Fawkes of BBC Weather said some stretches of the M4 and M5 had been completely covered in snow at some points on Sunday morning.
He said this was partly because traffic has been low due to lockdown restrictions – and vehicles are needed to help grit mix into snow to make it melt.
Source: BBC