Captain Sir Tom Moore won the nation's hearts with his extraordinary fundraising efforts for National Health Service charities.
The retired Army officer served in India and Myanmar, also known as Burma, during World War Two but it was by walking laps around his garden that he became known to millions.
When he was 99, he was catapulted into the global spotlight with his attempt to raise an initial £1,000 for charity.
Early in April 2020, with the aid of his walking frame and a steely determination, he vowed to complete 100 laps of his patio before his 100th birthday at the end of that month.
The war veteran was inspired to help the health service after receiving treatment for skin cancer of the head, and a broken hip after a fall in 2018.
He described the NHS staff who helped him through this as "marvellous", and pledged to help those same "super" people who were working on the front line during the coronavirus pandemic.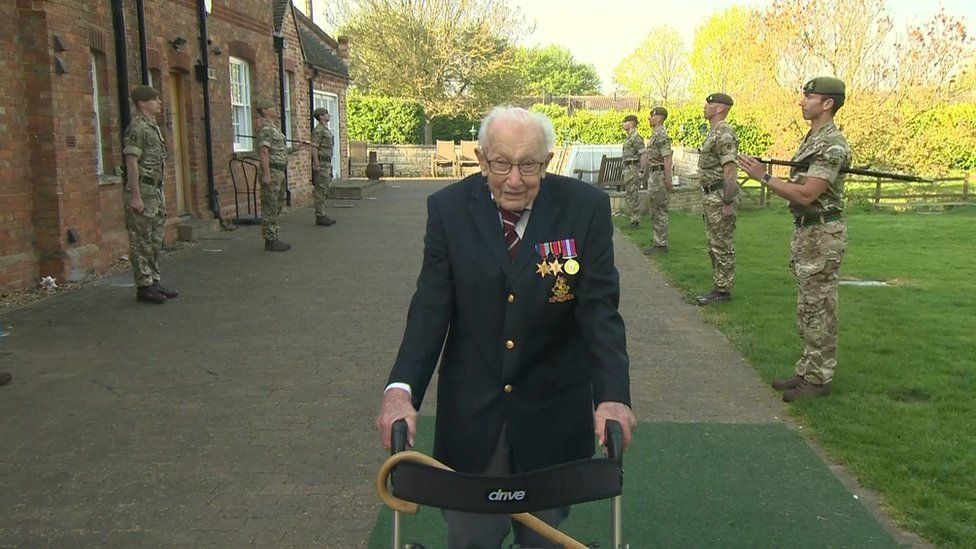 His family thought reaching the £1,000 mark would be "a real stretch" but, as press coverage of his efforts increased, so did the donations.
By the time he completed his 100 laps – on 16 April 2020 – Captain Tom, as he had become affectionately known, had raised more than £12m for NHS Charities Together.
In 2007, he had moved from Kent to Bedfordshire to be with his youngest daughter, Hannah Ingram-Moore, and her family.
It was here, in Marston Moretaine, that the idea of raising relatively modest funds for a charity supporting the NHS was hatched.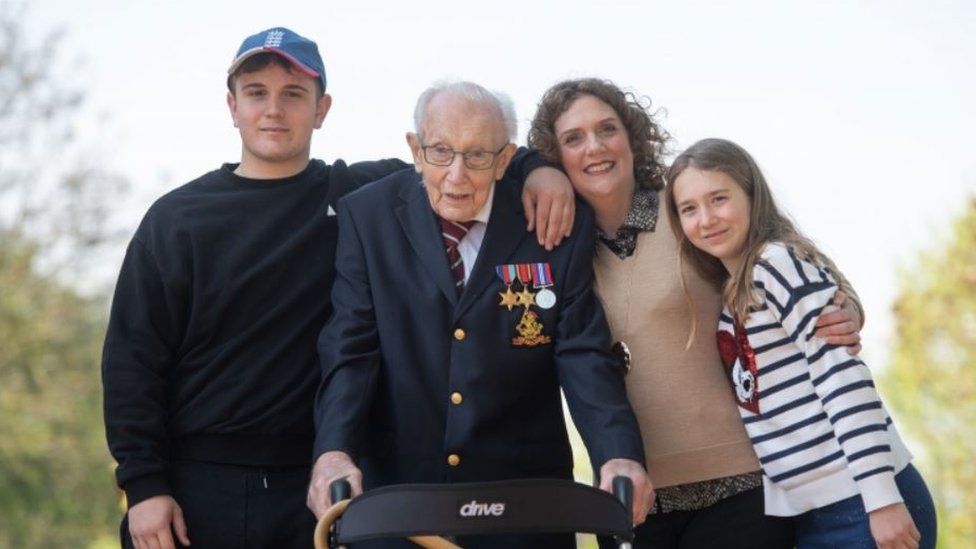 Capt Sir Tom began walking – planning on 10 laps at a time of the 25-metre (82ft) loop in his back garden – and the donations began mounting up.
Every million was another milestone, but the veteran, who became a well-known face on national television, took it all in his stride.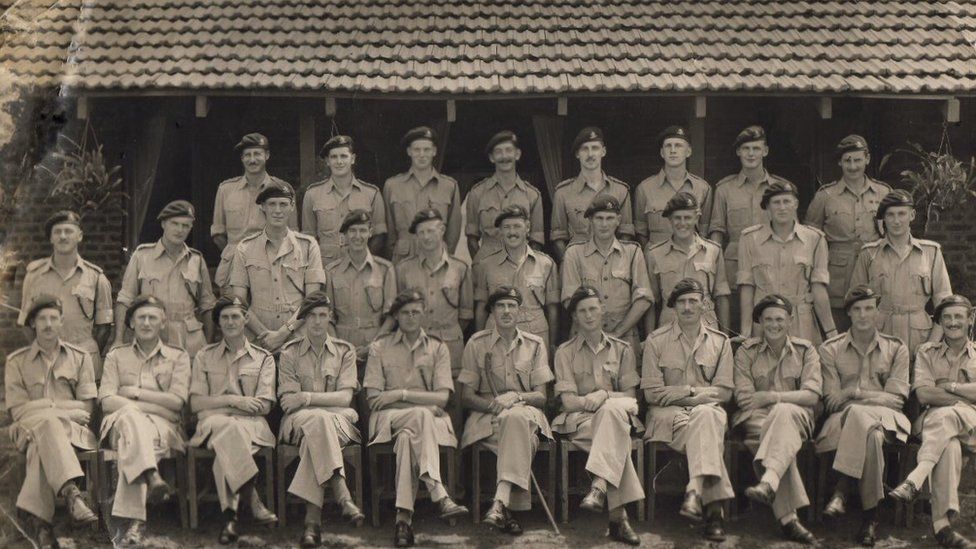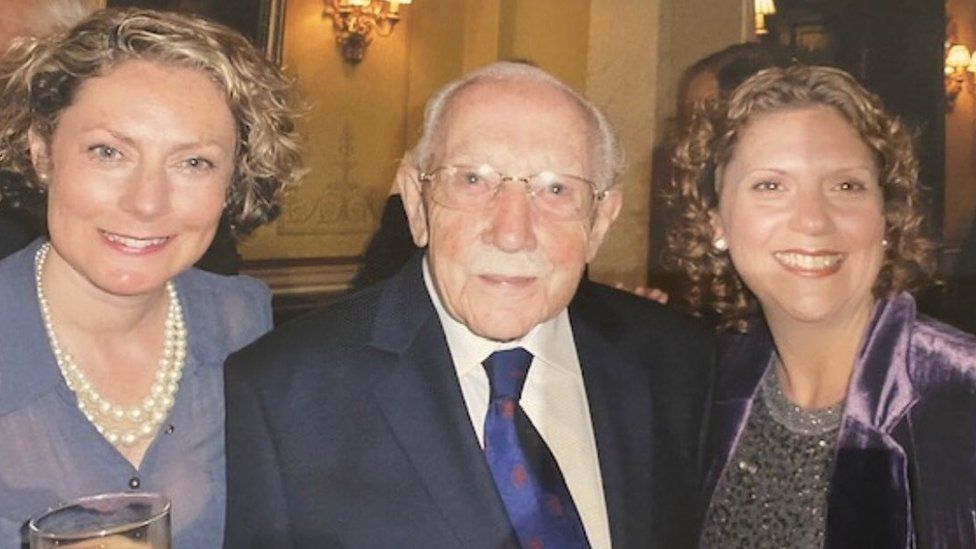 Ever modest about the challenge he had set himself, Capt Sir Tom was nevertheless astounded by the generosity of donors, describing it as "completely out of this world".
"It's all for the sake of the nurses and the NHS we have, because they are doing such a magnificent job," he said at the time.
"Every penny that we get, they deserve every one of it."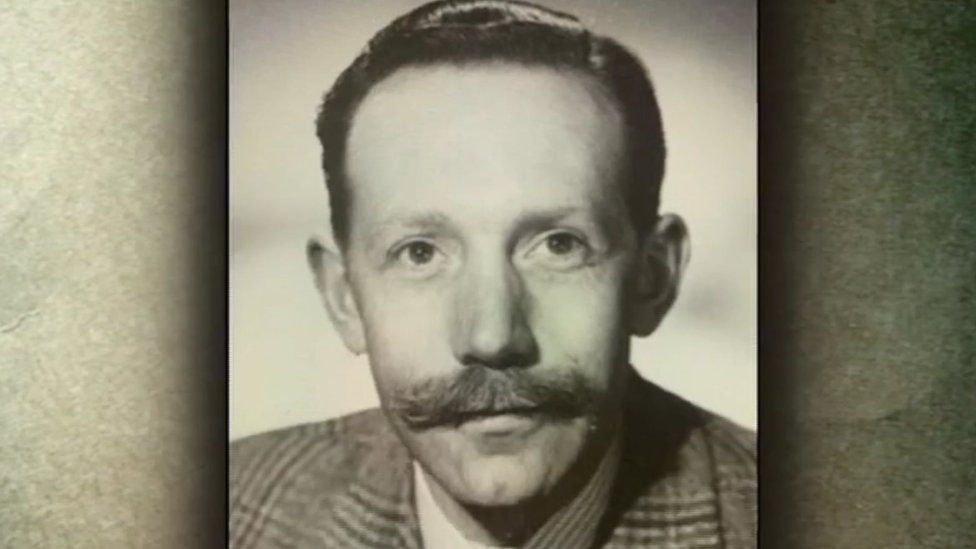 He was described as a "one-man fundraising machine" by the Duke of Cambridge, while both the prime minister Boris Johnson and Labour leader Sir Keir Starmer said Capt Sir Tom was "an inspiration" to everyone.
Not only did his efforts encourage thousands to donate to the fundraising appeal, but he inspired many to join his campaign to raise both awareness and money for those working in, and supporting, the NHS.
From a teenage girl learning to walk again on a treadmill as part of her recovery from a stroke, to a non-verbal boy with autism – who wrote "He is a hero to us," as he embarked on his own challenge to walk for the NHS – people set themselves their own challenges, buoyed by the former soldier.
Age, it seemed, was no barrier – as Capt Sir Tom was proving.
Dozens dusted off their own walking frames and took to the streets to prove they could play their own part in the drive to raise funds.
One woman completed a marathon by walking laps near her Berkshire home, at the age of 104.
"Tom, I've done it," she laughed, as she finished her challenge.
A week before his 100th birthday, Capt Sir Tom became the oldest person ever to get to number one in the UK singles charts when his duet of You'll Never Walk Alone – with singer Michael Ball – took the top spot.
His 100th birthday on 30 April 2020 was marked with an RAF flypast, personal birthday greetings from the Queen and prime minister, and he was made an honorary colonel of the British Army.
"I'm still Captain Tom, that's who I really am but if people choose to call me colonel, well, thank you very much," he replied.
The following month it was announced he would be awarded a knighthood for his fundraising efforts and would be known as Captain Sir Thomas Moore "under Ministry of Defence protocol".
On 17 July 2020, he was knighted in the grounds of Windsor Castle, in the Queen's first official engagement in person since the lockdown period began in March.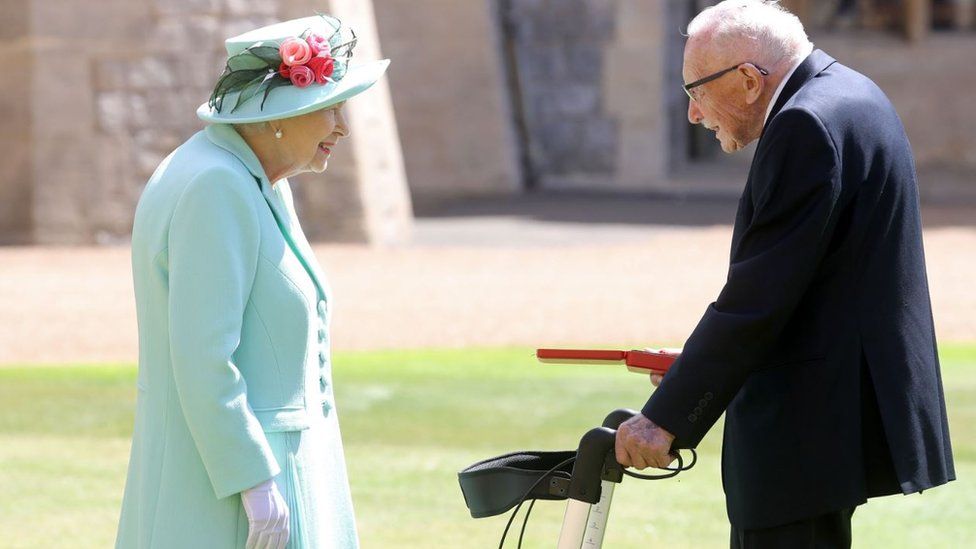 His youngest daughter said at the time of his fundraising efforts that her father had become a "beacon of hope" during challenging times.
And indeed, Capt Sir Tom always seemed to know just the right thing to say to buoy the nation's spirits as the public tried to abide by government regulations to stem the spread of the coronavirus pandemic.
"To all those people who are finding it difficult at the moment, the sun will shine on you again, and the clouds will go away," he said.
"Tomorrow will be a good day" – another example of his positivity – became a hashtag on social media posts.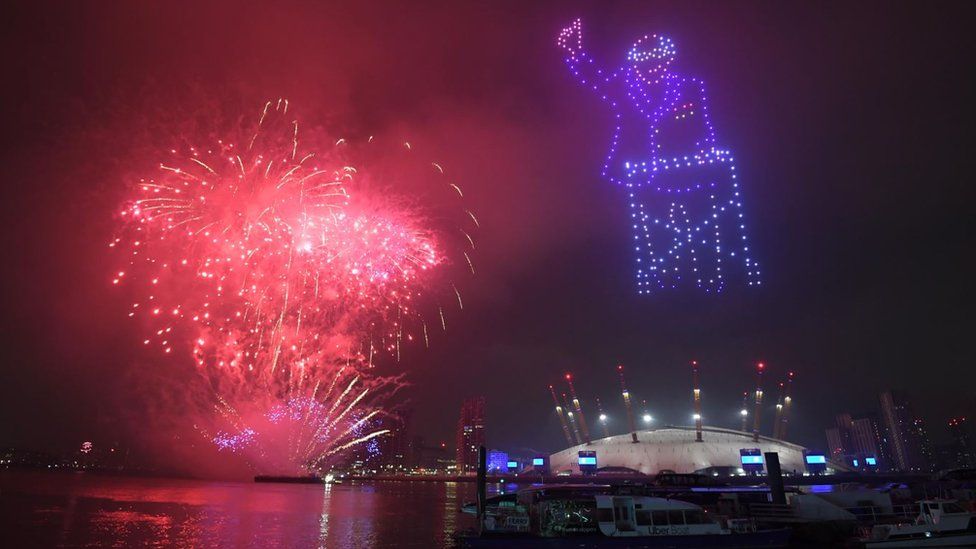 The proud Yorkshireman completed his 100 laps of his garden live on television in April 2020, with a Guard of Honour from 1st Battalion the Yorkshire Regiment and a rousing round of applause from his family.
By the time he closed his fundraising page at midnight on his 100th birthday, Capt Sir Tom had raised £32,794,701 for charities supporting the NHS, from more than one-and-a-half-million global donors.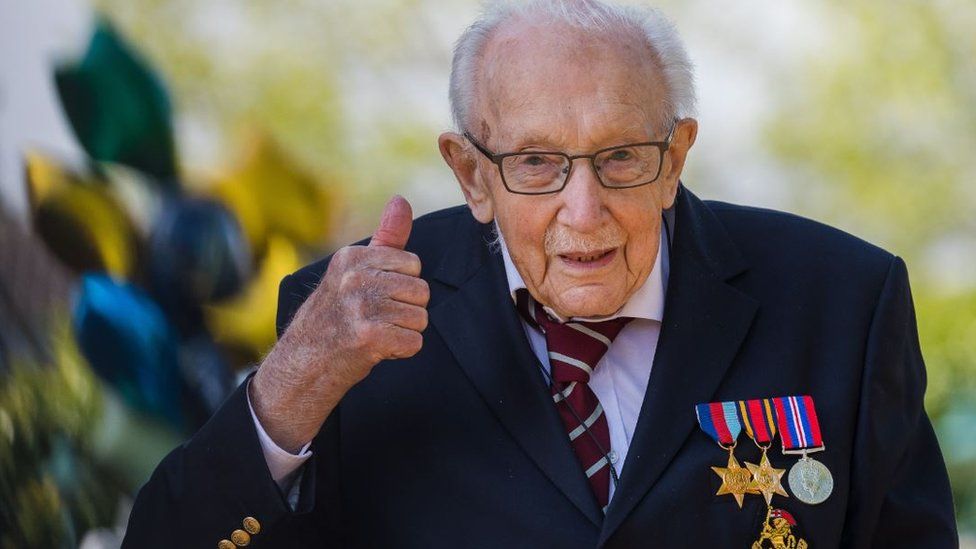 Source: BBC