Street artist Banksy has confirmed he was behind the artwork that appeared on the wall of Reading Prison on Monday.
The picture shows a prisoner – possibly resembling famous inmate Oscar Wilde – escaping on a rope made of bedsheets tied to a typewriter.
It comes as campaigners continue to lobby for the former jail to be turned into an arts hub rather than being sold for housing.
The guerilla artist confirmed the work though a video on his website.
The clip – entitled Create Escape – shows the piece being created under the cover of darkness, set to archive commentary from American painter Bob Ross.
The Ministry of Justice said it was "aware that Banksy has confirmed he is responsible for the graffiti".
"We are considering next steps and will provide an update in due course," it added.
Reading Borough Council said Banksy's involvement suggested he was backing the campaign to save the prison.
It said: "We are thrilled that Banksy appears to have thrown his support behind the council's desire to transform the vacant Reading Gaol into a beacon of arts, heritage and culture with this piece of artwork he has aptly called Create Escape.
"The council is pushing the Ministry of Justice, who own the site, to make suitable arrangements to protect the image."
Matt Rodda, the Labour MP for Reading East, said there was a "growing sense of excitement" in the town since the artwork had been confirmed as real.
The Save Reading Gaol campaign tweeted: "We're thrilled to hear it is, after all, a Banksy!
"Thanks to the elusive artist & their team. We are incredibly grateful. Your support & gift to the town will be appreciated for many years to come!"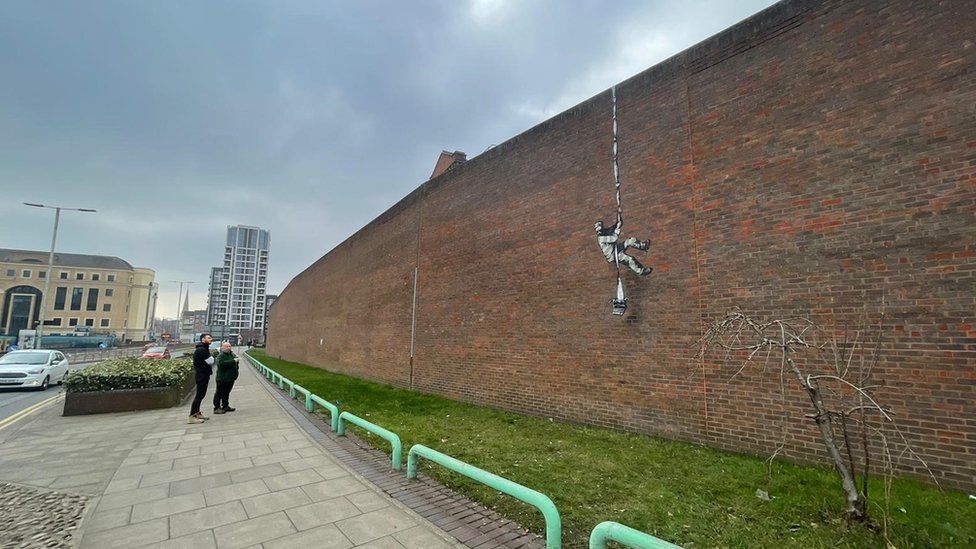 Toby Davies, the artistic director for Rabble Theatre in Reading, described it as "fantastic".
He said: "It adds real kudos to the whole campaign to have someone who knows a thing or two about culture take a risk and come and do this on a Ministry of Justice building.
"It is phenomenal, it really displays how much it means to people.
"Whenever I speak to people, not just those in the culture world but those who walk past it every single day, they get very emotional about it."
He added: "Reading has never had the opportunity to have a go at an international culture centre that brings people together.
"It should be a bubbling centre of UK culture but it isn't and that's because we've never been given a chance.
"If there was ever a chance then this is it and it won't come again."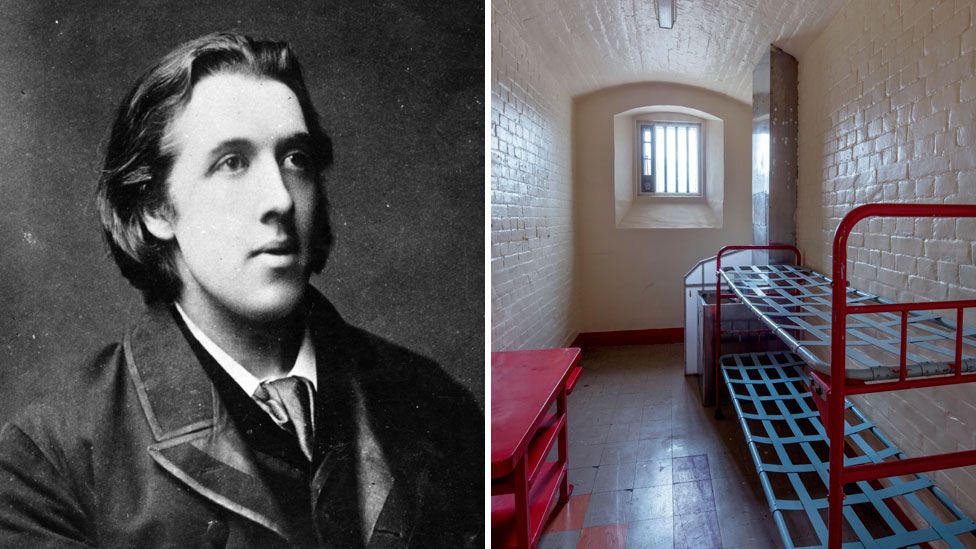 Mr Davies said having created the piece during lockdown would have been a "significant personal risk" for Banksy.
"It speaks volumes. He could have gone to wider issues around the world, there are plenty of them, but he has come to Reading to highlight this."
The jail famously housed Wilde between 1895 and 1897 and was immortalised by his poem Ballad of Reading Gaol during his stay, which reflected on the brutality of the Victorian penal system.
He was convicted after his affair with Lord Alfred Douglas was exposed.
The prison has been derelict since 2013 and was put up for sale by the government in 2019.
However, a deal to sell the Grade II-listed building to developers fell through last year and Reading council said it hoped to revive its bid to turn it into an arts complex.
Hollywood actors Sir Kenneth Branagh, Natalie Dormer and Dame Judi Dench are among the stars who have lent their support to the campaign.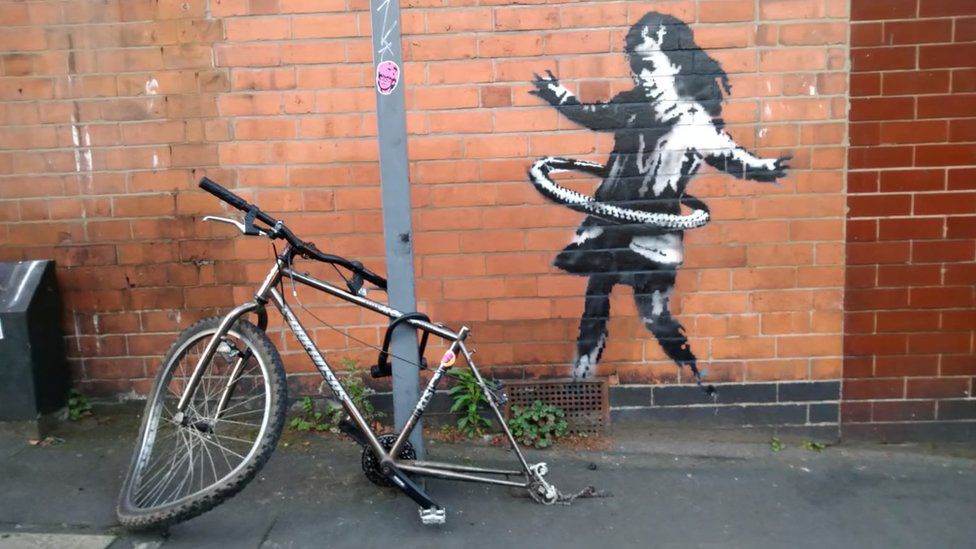 Banksy expert and vice-chancellor of Arts University Bournemouth, Prof Paul Gough, said the artwork could possibly be about the future use of the building or commentary on what is happening with news media and Facebook.
He said: "It's probably one of Banksy's less well-known features is that he has in the past donated quite a lot of work to what he thinks are charitable causes.
"So to give a piece of work to an organisation or at least in the interest of art has happened before – he's painted pictures on the side of youth clubs or in organisations he wants to be seen lending a hand.
"So there is a charitable arm to Banksy, which doesn't get written about or get celebrated very often."
He added: "I think it's terrific for art, public discourse, and draws attention to a brick wall – a lovely brick wall – that normally people would walk straight past, so it helps you see your public realm in different ways."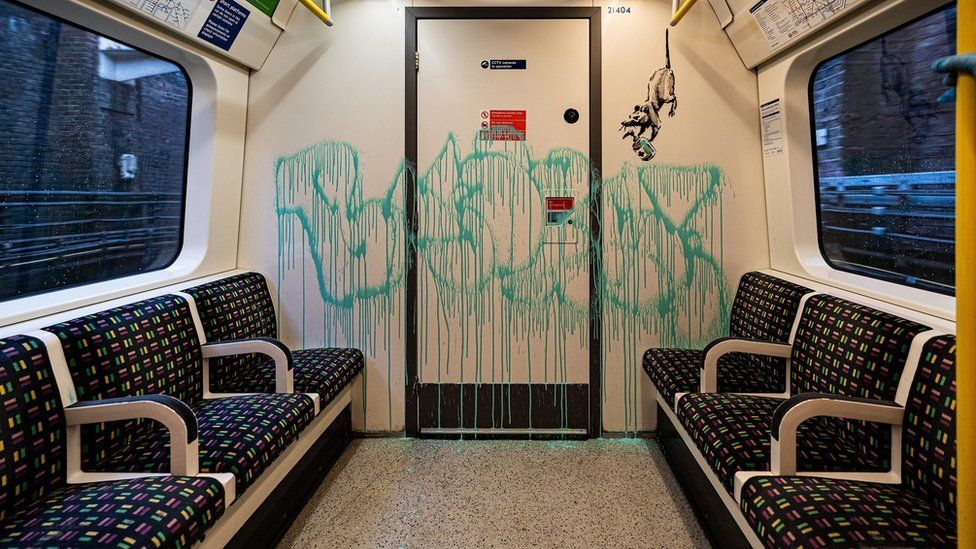 Source: BBC