Martyrs of Uganda Basic School has emerged winners in the second edition of the Luv FM Kiddy Quiz.
With just one point, the Santasi-based school's 80 marks was enough to beat Divine Mission Academy who garnered a near 79.
After three solid hours of intelligent display of prowess in academics and general knowledge, both schools made 64 points each in the sixth round.
The competition needed a tie-breaking question for the winner to be decided.
At this point, the contestants had to form four-letter words that contained consonants and vowels.
Martyrs of Uganda came tops with 16 more points, as against the 15 points by Divine Mission Academy.
Coached by Desmond Nsiah Afriyie, the Martyrs of Uganda was represented by 11-year-old Russell Tom Tottoe, Kelvin Oheneba Dwumfuour, 10 years and 11-year-old Lionel Valentino Koomson.
"I'm feeling excited. I have a scholarship, educational materials and lots of things. I am very happy," said Russell.
Divine Mission Academy was represented by 11-year-old Abubakar Mohammed Nurudeen Wunam, Kyogtaar Mwinkaare Aawaar, 10 years and Amenyo Atsu Jason. They were coached by Dr Godfred Aawaar.
"I am sad and happy at the same time. I am sad because I couldn't win, because I had so many people backing me," said second-place winner, Kyogtaar Mwinkaare Aawaar.
Glory Vel School and Alfaus Lovely School took the third and fourth positions respectively.
The journey to the finals
The second edition of the Luv FM Kiddy Quiz lasted two months, starting with an audition of over 50 schools.
Sixteen schools contested in series of picture identification, riddles, mind games, lucky letters, Ghana Month questions and mathematics.
The Quiz Master's Question of the Day, dedicated in memory of the late Saeed Ali Yaqub, News Editor of Luv FM and Nhyira FM, gave the contest an extra spice.
"It's been an awesome season with the contestants who have displayed high levels of intelligence, especially in the finals," said Quiz Master, Erastus Asare Donkor.
The finalists and winners received assorted packages and including educational materials for the contestants and their schools from sponsors, led by Alpha and Omega Publications.
The difference maker package
The 'Once A Child' initiative supported the program through its Edu Box with backpacks, exercise books, math sets and others presented to the winners and runners-up.
As part of the support package, Martyrs of Uganda received 'the difference maker package' which contains educational materials to be donated to a needy child the school seeks to support either in the school or community.
The ultimate aim is for the winners to make a difference in someone's life by winning the Luv FM Kiddy Quiz 2021.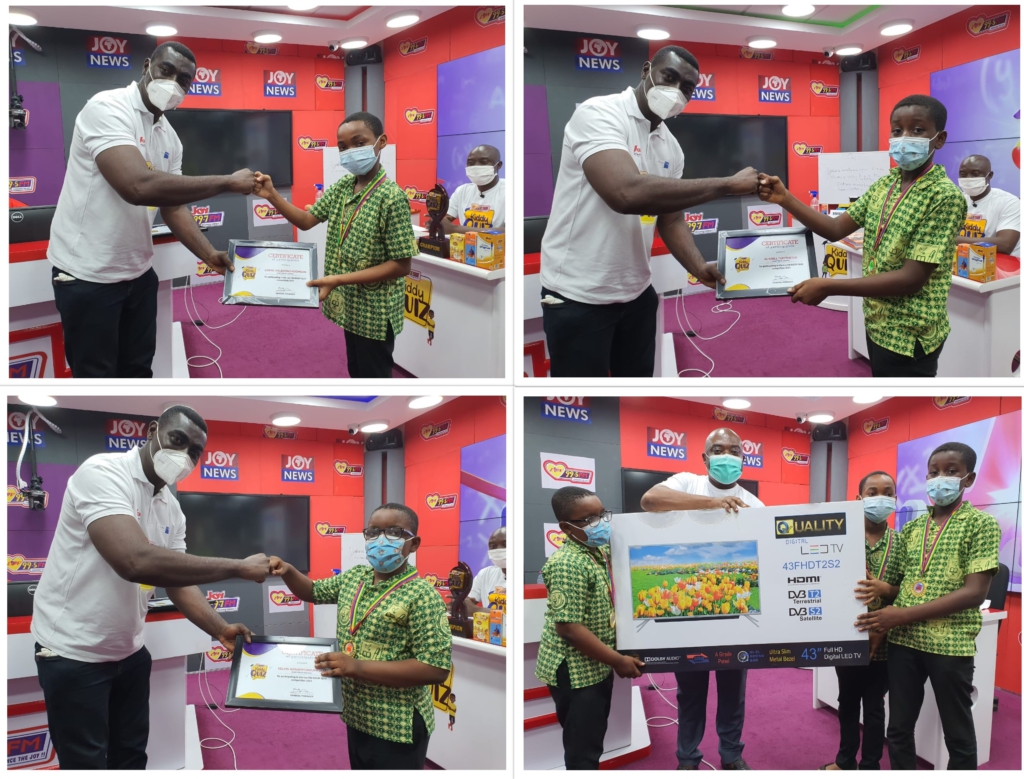 "It is our desire that we could serve more children, in need of educational supplies and other items through Edu box," said Francis Quayson, Executive Director.
"Our projects are also powered by the bags making initiative and I believe with the needed resources to produce more bags for sale, as well as getting more contracts will go a long way to helping us touch more lives".
The next contest
Luv FM has instituted the Kiddy Quiz as an annual event with plans to roll it out nationwide.
Project Coordinator, James Alfred Hemans, says the educational program has lived up to expectation.
He is hopeful that subsequent editions will be more exciting and fulfilling to partners and sponsors.
Source: JoyNews