Victoria Spence says she fell into a "deep, dark hole" about her own body image as a teenager, leading to her developing an eating disorder.
From staring at pictures of "girls with thigh gaps" on social media to having her weight shared during a science class, she eventually hit rock bottom, telling her mum that she had begun to hate herself.
But when Victoria's parents tried to seek help, her doctor told her that her Body Mass Index (BMI) wasn't low enough for treatment.
"I came away and just got worse and worse and worse, because I saw what the doctor said to me as 'you are not thin enough yet, there is still more to go, you should still lose weight'," the 26-year-old from Manchester told the BBC.
After seeking private treatment and her parents being warned she could die, Victoria is thankfully on the road to recovery and shares her story on Instagram with over 100,000 followers, offering support to others.
She is now backing the findings of an inquiry by MPs calling for BMI to be scrapped.
The report from the Women and Equalities Committee has also branded the government's obesity strategy "dangerous", saying some of the measures – such as calorie labels on menus – could affect those with, or at risk of developing, eating disorders.
The government says NHS England does not support the use of "BMI thresholds" and that its approach is "guided by the latest research and emerging evidence".
BMI is calculated by dividing an adult's weight by the square of their height.
It gives a number that then fits on a scale, concluding whether someone is underweight, a healthy weight, overweight or obese.
But while it is a simple tool, a number of scientists have questioned its validity as a measure of a person's health, saying other factors are not included and it is based on the physique of a European man.
'Shamed'
During its inquiry into body image, the committee looked into BMI and concluded it "inspires weight stigma".
Its report said for those with higher BMIs, serious medical issues were being disregarded as simply the patient being "overweight" and patients were being made to feel "shamed" into losing weight.
It also pointed to stories like Victoria's, saying some GPs had "an over-reliance on BMI, particularly when diagnosing eating disorders".
Chair of the committee, Caroline Nokes, said the measure needed to be scrapped and replaced with a "health at every size" approach instead.
The Tory MP added: "We know BMI is an absolutely lousy measure of good health in an individual. It works as an average across populations, but for individuals, it really doesn't help at all.
"We have seen instances of people who have been refused treatments because their BMI is too high or they have been refused access to eating disorder services because their BMI isn't low enough – and what a dreadful target that is to set anyone with an eating disorder.
"We want young people to be enjoying their childhood, we want them to be healthy and active, not obsessing over numbers like BMI."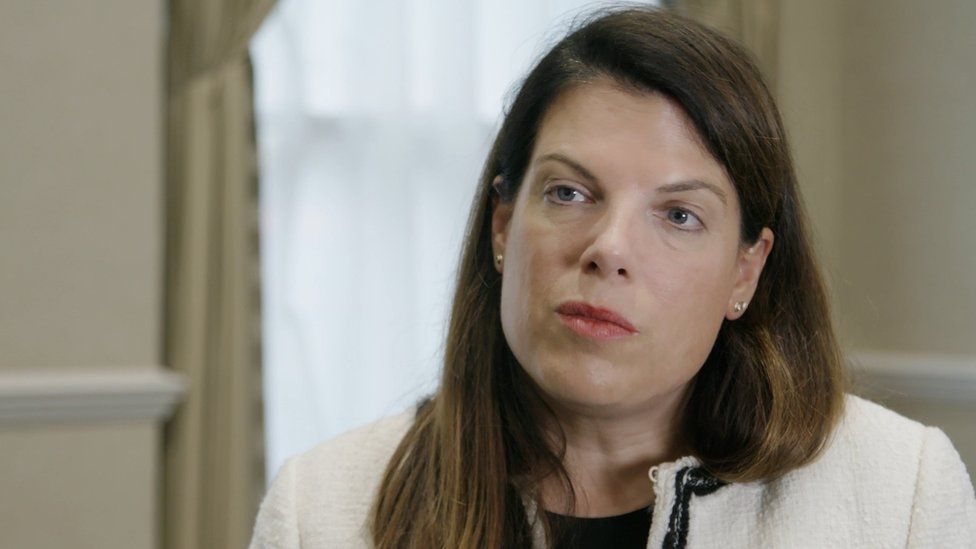 The call was backed by eating disorder charity Beat, who said BMI "should never be used as the sole factor in diagnosing eating disorders, or for determining who is 'unwell enough' to access treatment".
Its director of external affairs, Tom Quinn, said: "This can lead to potentially dangerous delays, and can drive people deeper into eating disorders in order to be taken seriously."
A spokeswoman for the Department of Health and Social Care said that NHS England "had been clear it does not support the use of BMI thresholds".
Health Minister Nadine Dorries also acknowledged to the committee that there was "good and bad" in the use of BMI – although she said doctors needed to gauge whether a person is a healthy weight or not.
'Pressure will intensify'
The report also criticised the government's obesity strategy, saying it was "at best ineffective and at worst perpetuating unhealthy behaviours".
Boris Johnson unveiled his plan in July 2020 amid the pandemic, saying it would "reduce our health risks and protect ourselves against coronavirus".
It included banning "buy one get one free" deals on unhealthy food, as well as restrictions on where those foods can be promoted in-store, and new rules for displaying calories on menus.
But the committee said there had been no reviews of the effectiveness of the current or previous obesity strategies before the plan was published, and called for an urgent review to examine the evidence behind the measures.
Other conclusions of the report included:
A warning against the National Child Measurement Programme – recording primary school children's weight – saying it would be "likely to cause harm to children's mental health"
A call for the government to work with the Advertising Standards Agency to drive more companies to advertise "with real images of people"
Another call to bring forward legislation to restrict or ban the use of altered images in advertising
Ms Nokes said: "The government must ensure its policies are not contributing to body image pressures."
Responding to the committee's report, a Department of Health and Social Care spokeswoman said the government's approach was "guided by the latest research and emerging evidence".
She added: "We know poor body image can be a factor in disordered eating for both men and women and we are committed to improving outcomes for those with eating disorders and related mental health issues – with record funding to expand dedicated services in the community."
But, she added: "With over six in 10 adults overweight or living with obesity, it is important that we take action to help people live healthier lives."
Source: BBC