For the first time in months, pub gardens, shops and hairdressers have reopened in England, as rules were also eased in the rest of the UK.
Shoppers flocked to the High Street, with long queues seen outside some retailers. Other people took advantage of England's gyms and zoos reopening.
Prime Minister Boris Johnson urged everyone to "behave responsibly".
Northern Ireland's "stay-at-home" order is ending and some rules are being eased in Scotland and Wales.
The PM had planned to have a celebratory pint to mark the measures easing, but that has been postponed following the death of the Duke of Edinburgh on Friday.
Snow showers and chilly temperatures in parts of southern England appeared to do little to dampen enthusiasm for outdoor pints.https://emp.bbc.co.uk/emp/SMPj/2.40.2/iframe.htmlmedia captionA Leeds landlord says his pub has had thousands of bookings for their outside area.
Scott Westlake, landlord of the Myrtle Tavern in Leeds, said the pub had received 5,000 bookings over the next month for his new outside eating and drinking area.
Mr Westlake said: "If the weather's good, I think most people are optimistic and excited.
"Atmosphere, ambience, seeing your mates, I think they (customers) are looking forward to that more than anything – and they'll sit in a blizzard for the first few days at least."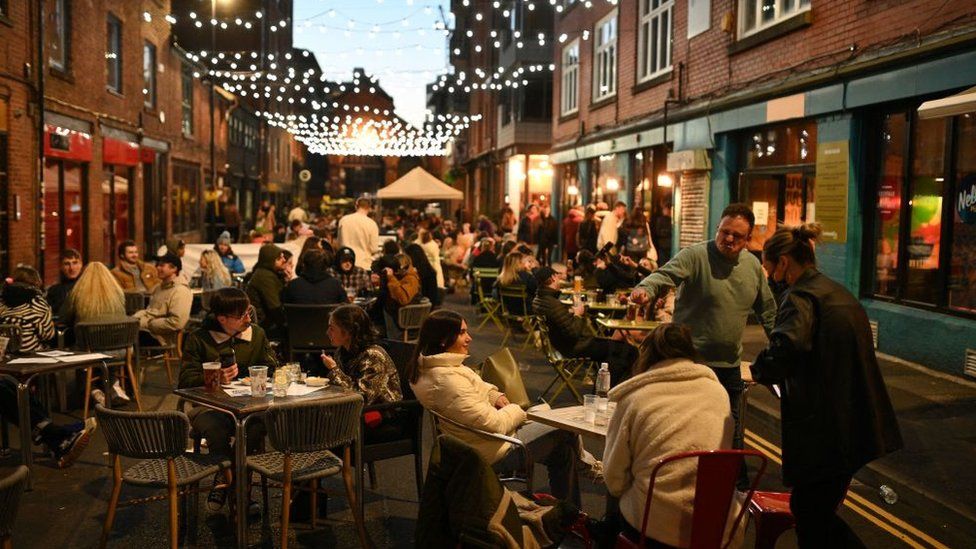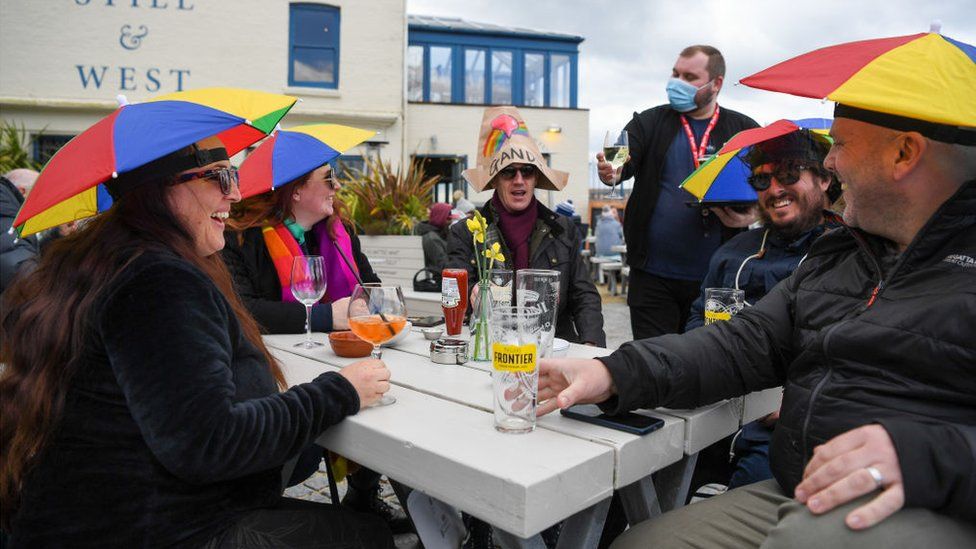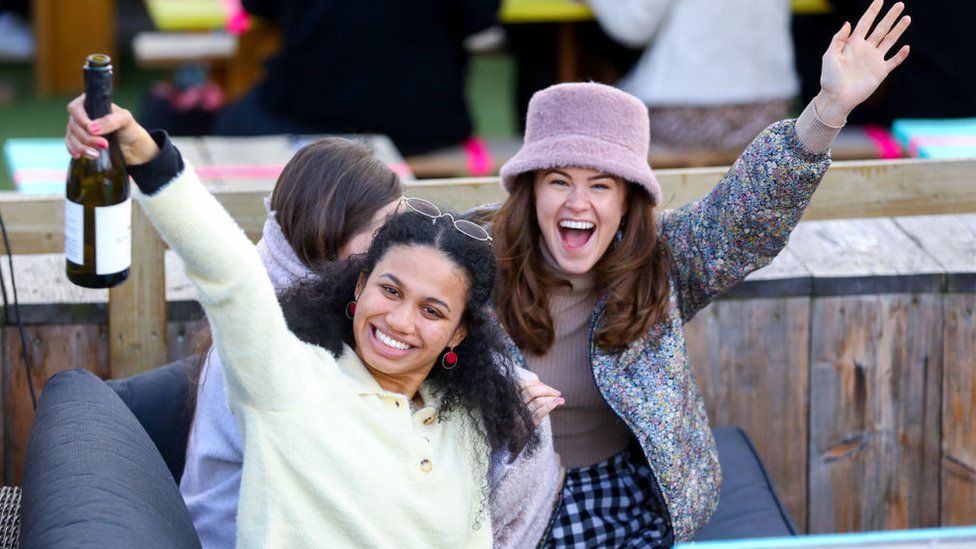 Nicholas Hair, landlord and owner of the Kentish Belle pub in Bexleyheath, south-east London, said there was a "sense of celebration" in the early hours of Monday as it opened to midnight customers.
"I'm hoping that this is a sort of rebirth, and that we are reopen for the foreseeable," he said.
Meanwhile, a town in Lincolnshire has introduced its own European-style pavement cafes to help boost trade.
Several hospitality venues in the market town of Louth have been allowed to put seating and tables outside to serve people during the day.
Lewis Phillips, general manager of the Masons Arms, which is one of the venues involved in the Louth scheme, said: "We don't have a lovely big beer garden. So what we've got out the front here is absolutely brilliant."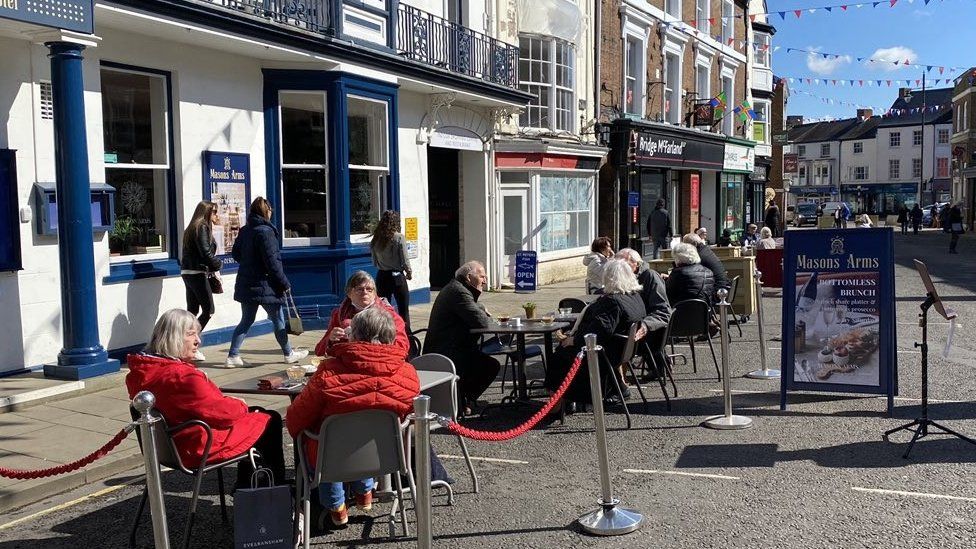 The prime minister had planned to have a celebratory pint to mark the measures easing, but that was postponed following the death of the Duke of Edinburgh on Friday.
However, Downing Street confirmed that Mr Johnson did have a haircut before he paid tribute to the duke in the House of Commons.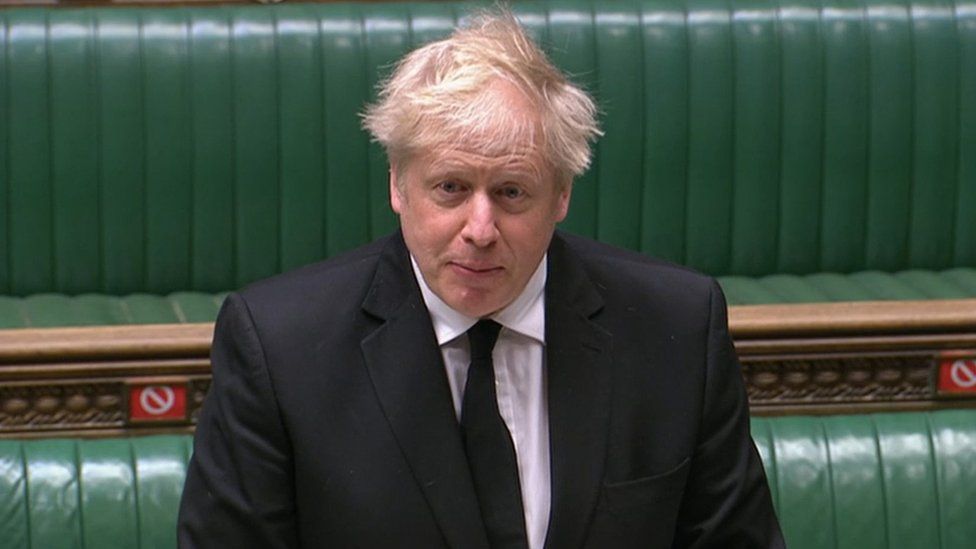 Marika Smith, general manager of Hough End Leisure Centre, Withington, Manchester, said all of their swimming times were already fully booked on Monday.
Kelly Boad, owner of the Hair & Beauty Gallery in Warwick, opened her salon at midnight for a symbolic "first cut" of 2021, adding she is fully booked for the first few weeks.
Shoppers rushed back to the High Street, as queues formed outside branches of Primark, JD Sports and TK Maxx and retailers extended their opening hours.
Another business that reopened in England was Secret Spa, which offers at-home salon and spa treatments in London, Manchester and Brighton.
Co-owner Emily Ewart-Perks said it had "been such a long time coming", saying: "Everyone has really missed the social contact of the day-to-day job and making clients happy.
Long queues were not going to put shoppers off from visiting their favourite High Street retailers
The rule changes in England from Monday include:
All shops can reopen
Hairdressers, beauty salons and other close-contact services can open
Restaurants and pubs are allowed to serve food and alcohol to customers sitting outdoors
Gyms, spas, zoos, theme parks, libraries and community centres can all open
Members of the same household can take a holiday in England in self-contained accommodation
Non-essential journeys between England and Wales are allowed
Up to 15 people can attend weddings and 30 can attend funerals
Children can attend any indoor children's activity
Care home visitors will increase to two per resident
Driving lessons can resume, with tests restarting on 22 April
But the British Beer and Pub Association has estimated that only 40% of licensed premises have the space to reopen for outdoor service.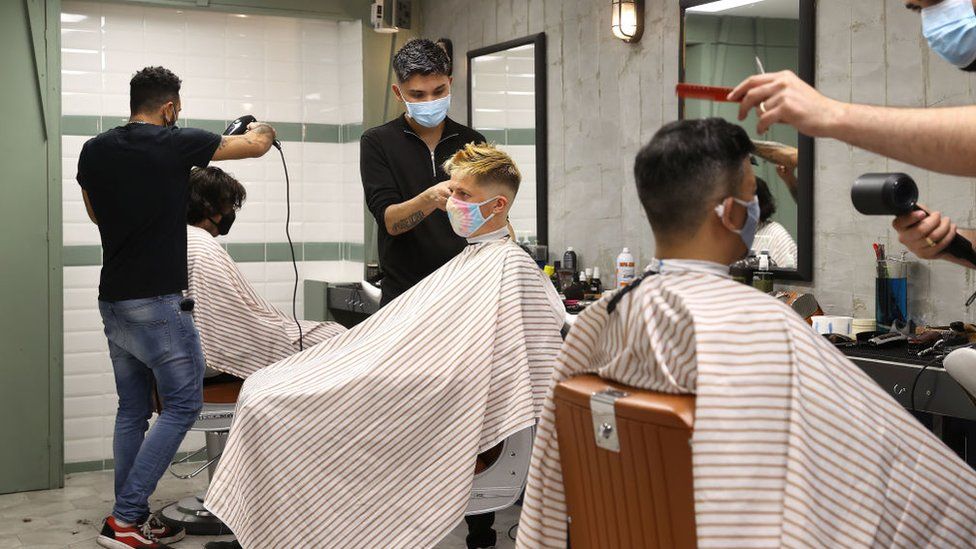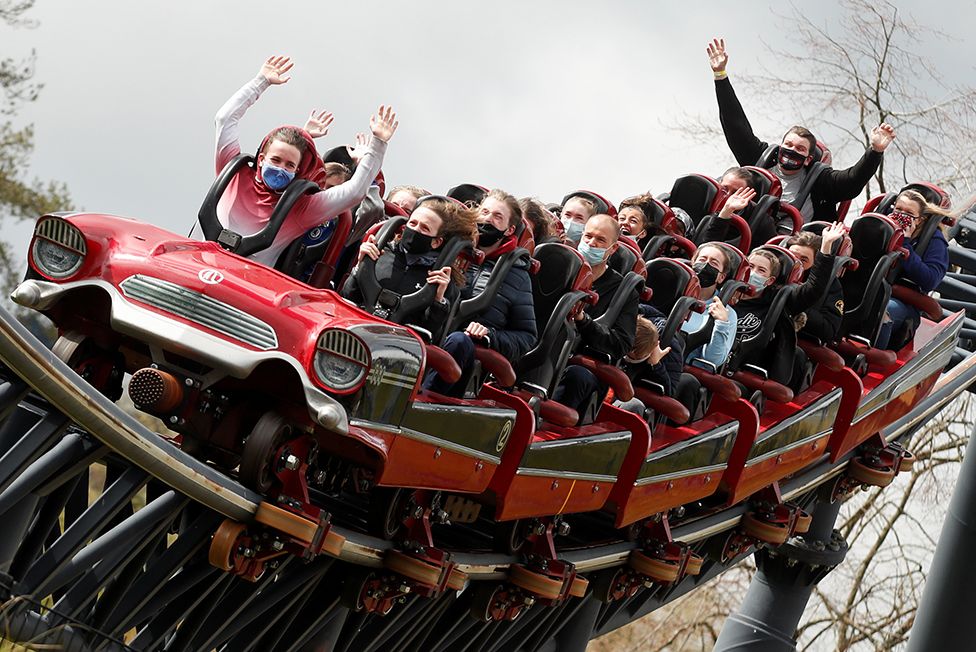 In Northern Ireland, the remaining school year groups 8-11 returned to the classroom. The stay-at-home message has been lifted and up to 10 people from two households can meet in a private garden.
In Scotland, pupils at schools in six council areas went back to school but not everyone returned on Monday because differing term times mean some schools are still closed for the Easter holidays.
After a drop in Covid cases prompted the Welsh Government to bring forward some dates for reopening, all students returned to face-to-face teaching on Monday.
Non-essential shops can also reopen, close-contact services can resume, driving lessons can restart and travel in and out of Wales from the rest of the UK is allowed.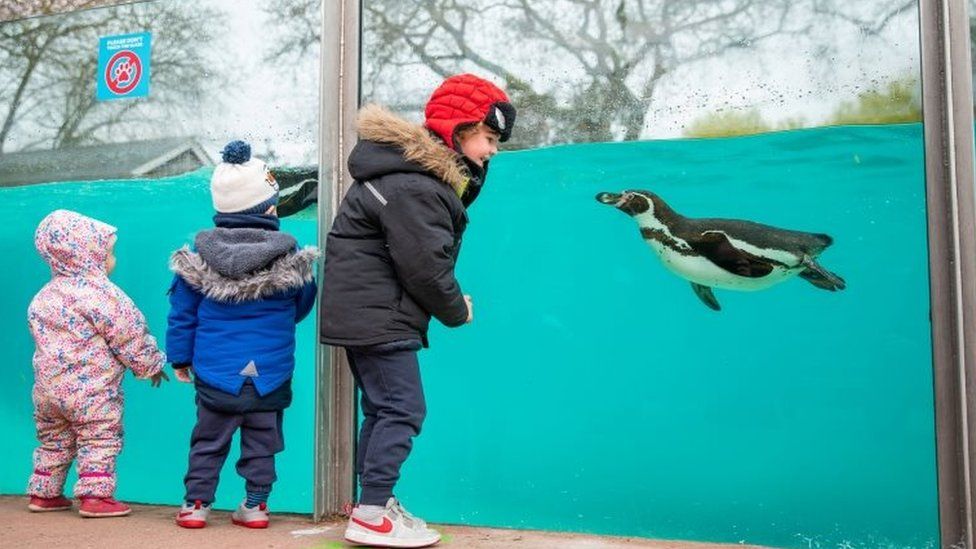 Shoppers, gym fans, domestic holiday makers, outdoor drinkers and diners, plus those in need of a haircut will share the government's hope that Monday is an irreversible step towards old and cherished freedoms.
So will the business owners who will be welcoming them back.
But this significant easing of lockdown is also an important test.
Will customers want or be able to return in sufficient numbers for firms to break even and if they don't, what will it take to make the economy work again?
Only two in five hospitality venues have any outdoor space and the rules over future inside opening are still unclear.
The government and the opposition have distanced themselves from requiring Covid certificates for day-to-day life but the government has also hinted individual businesses may require them if they wish.
Hospitality chiefs have told the BBC they fear having to choose between two different ways to lose money – half-empty venues without certificates or full ones with extra staff and hassle to check Covid status.
Demand may vary by sector.
Hairdressers are booked solid, retailers are hopeful of high footfall and are welcoming longer opening hours but some holiday parks are reporting subdued bookings as many of their public amenities remain closed.
It is a test for everyone – but a welcome one for most.

In a statement, the prime minister said the rule relaxations are "a major step forward in our roadmap to freedom".
"I'm sure it will be a huge relief for those business owners who have been closed for so long, and for everyone else it's a chance to get back to doing some of the things we love and have missed," he added.
"I urge everyone to continue to behave responsibly and remember 'hands, face, space and fresh air' to suppress Covid as we push on with our vaccination programme."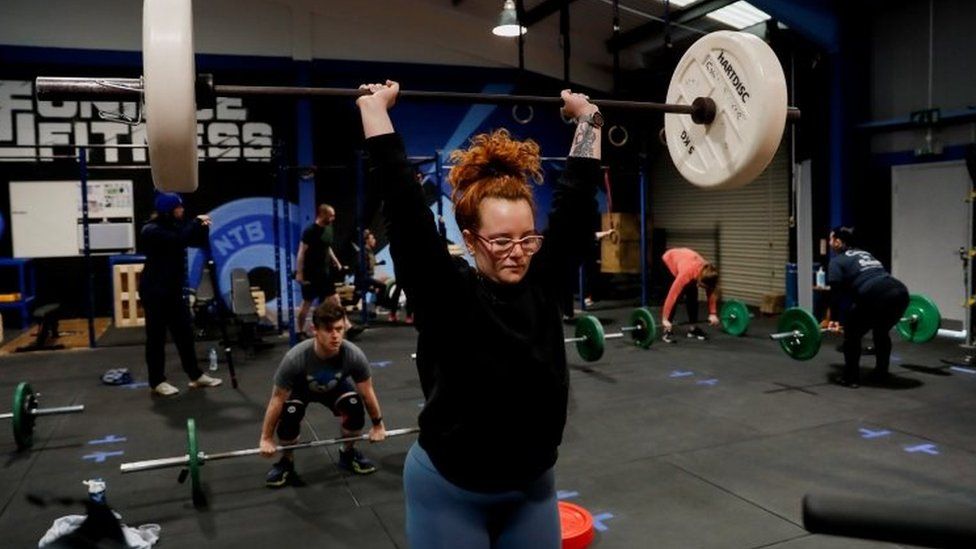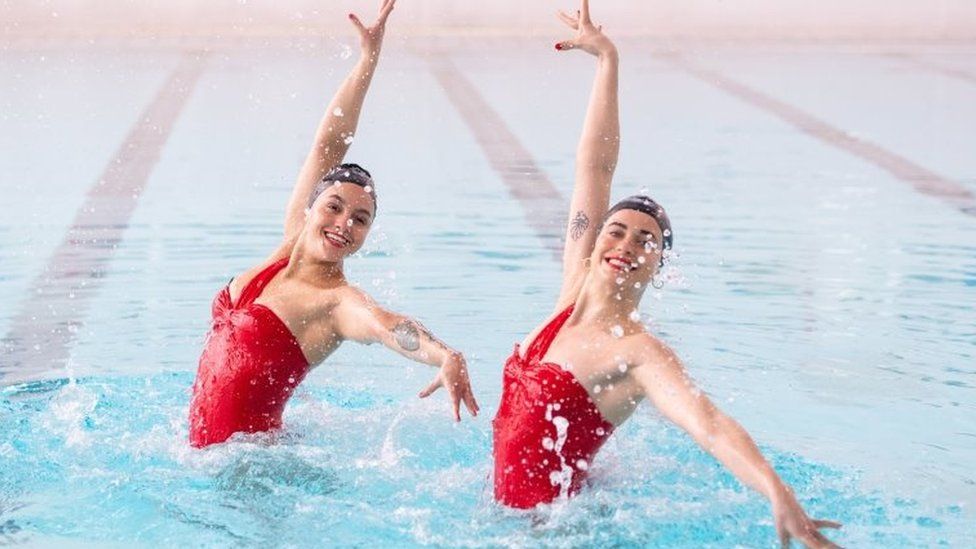 The rule changes in England marks the third easing since the country's third national lockdown began on 6 January.
There is a gap of at least five weeks between each step on the government's "roadmap" out of lockdown, to allow the impact of changes on infection rates and hospital admissions to be assessed.
The next significant date is 17 May, when up to six people from different households could be allowed to socialise indoors.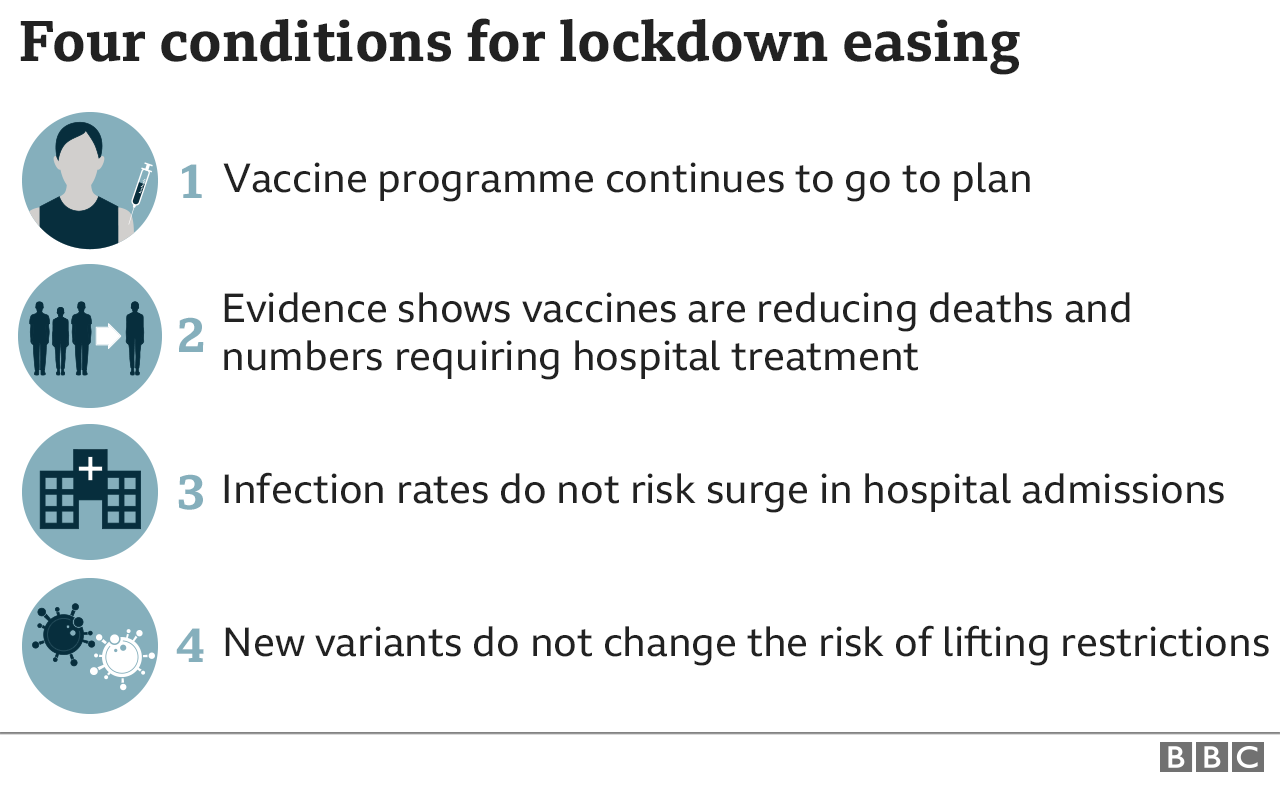 More than 32 million people in the UK have now had their first dose of a coronavirus vaccine and of those 7.6m have had their second dose, according to the latest government data.
Meanwhile, 189,665 second doses were administered on Sunday – along with 69,223 first doses.
Saturday marked a record total for second doses, with 475,230 given, while 111,109 were first doses.
A further 13 people are reported to have died within 28 days of a positive Covid test, and there have been 3,568 new infections.
There can be a lag in reporting coronavirus statistics during weekends.
Meanwhile, surge coronavirus testing is being rolled out in areas of Wandsworth and Lambeth in south London, where cases of the South Africa variant were found.
All identified cases are self-isolating or have completed their isolation, and their contacts have been traced and asked to self-isolate.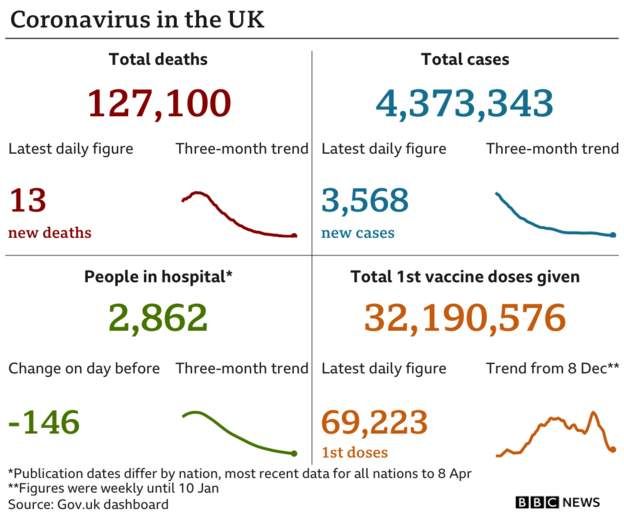 Source: BBC