Prime Minister Boris Johnson is expected to confirm later the plan to lift almost all legal restrictions on social contact in England on 19 July.
But ahead of a news conference on Monday afternoon, Mr Johnson has urged people to be cautious.
"We must all take responsibility so we don't undo our progress, ensuring we continue to protect our NHS," he said.
He warned that Covid-19 cases, currently at about 30,000 a day, would continue to rise as society reopened.
The PM's news conference will present the latest data, with Downing Street saying current modelling suggests hospital admissions, serious illness and deaths from Covid-19 will continue, but at a lower level than before the vaccination programme.
Number 10 said the delay in moving to the final stage of the roadmap out of lockdown, originally scheduled for 21 June, had allowed an additional 6.8 million first and second vaccine doses to be given out so far.
The government had also moved the expected end of restrictions closer to the school summer holidays, when transmission was likely to be lower, Downing Street said.
Mr Johnson said: "We are tantalisingly close to the final milestone in our road map out of lockdown, but the plan to restore our freedoms must come with a warning."
He said the vaccine roll-out had weakened the link between infections, hospital admissions and deaths, but added the pandemic was "not over yet".
With cases set to rise as restrictions were lifted, "caution is absolutely vital", the prime minister said.
As well as the news conference, Health Secretary Sajid Javid is expected to announce the plans in Parliament.

A significant risk with significant rewards
No other country has attempted what England looks set to do in the face of rapidly increasing infection rates, driven by a more infectious variant.
But then few countries have such high levels of vaccination, plus protection from natural infection to reduce the burden of serious illness.
And with cases already surging, the calculation is that delaying further will not achieve a great deal.
The hope is the rising wave of infection will soon hit that wall of immunity and rates will plateau, before falling.
However, it comes with significant risks. While the link between cases and hospitalisations is weakened, it's not broken – 100,000 cases a day would probably lead to 2,000 admissions, twice what the NHS sees in the depths of winter for all respiratory infections.
But the rewards are, potentially, significant too. It's possible by the end of summer England could find itself in a position where there will be enough immunity to be close to being able to manage the virus.
It's unlikely to hit the herd immunity threshold, but close enough that huge surges of infection may be behind us.

The decision to remove restrictions is based on four tests, Downing Street said.
These are:
continued progress in the vaccine rollout
evidence that vaccination is reducing hospital admissions and deaths
infection rates that do not risk unsustainable pressure on the NHS
no new variants of concern which change the risks.
Dr Mike Tildesley, an expert in infectious disease modelling who sits on the government's Scientific Advisory Group for Emergencies (Sage), told BBC Breakfast the country was at a "tricky phase" and said "mixed messaging" from ministers over facemasks was a concern.
He said: "I think it's actually quite confusing for people to know what the right thing to do is. I think all we can do is take a sort of appropriate approach where we look at the situation and weigh up risk ourselves and I hope enough people do that going forward and we don't see a big surge."
Care minister Helen Whately has said she looked forward to not having to wear a facemask as much, while Rishi Sunak said he would stop wearing one as soon as "legally possible".
Dr Tildesley said that when some restrictions were lifted in May there had not been a significant uptick in the R rate as many people had remained cautious so it would be interesting to see if that was the case after 19 July.
Prof Peter Openshaw, who sits on the Sage subcommittee Nervtag, told BBC Radio 4's Today programme he did not see why people were reluctant to wear face coverings, adding it was difficult to leave it up to people whether to wear one or not when "it is not only protecting yourself but also protecting other people".
He added the country was at a "crucial moment" with hospitalisations up 66% in the last week.
But health minister Edward Argar said he would continue to carry a mask and told the Today programme there would be "clear and strong guidance" despite legal obligations falling away, with people having to make their own judgements on when to wear a mask.
Nearly 45.9 million people – or 87.1% of adults in the UK – have now had at least one dose of a Covid-19 vaccine. Almost 34.8 million (two-thirds of adults) have had both doses.
On Sunday, the UK recorded another 31,772 confirmed coronavirus cases, along with a further 26 deaths recorded within 28 days of a positive test.
Although deaths remain relatively low, in the past seven days they rose by more than 66% on the previous week.
The move to stage four of England's road map out of lockdown would mean there would no longer be any limits on how many people can meet, the 1m-plus rule being lifted and the legal requirement for face masks coming to an end.
But on Sunday Vaccines Minister Nadhim Zahawi said there would still be "an expectation" to wear them in crowded places such as trains.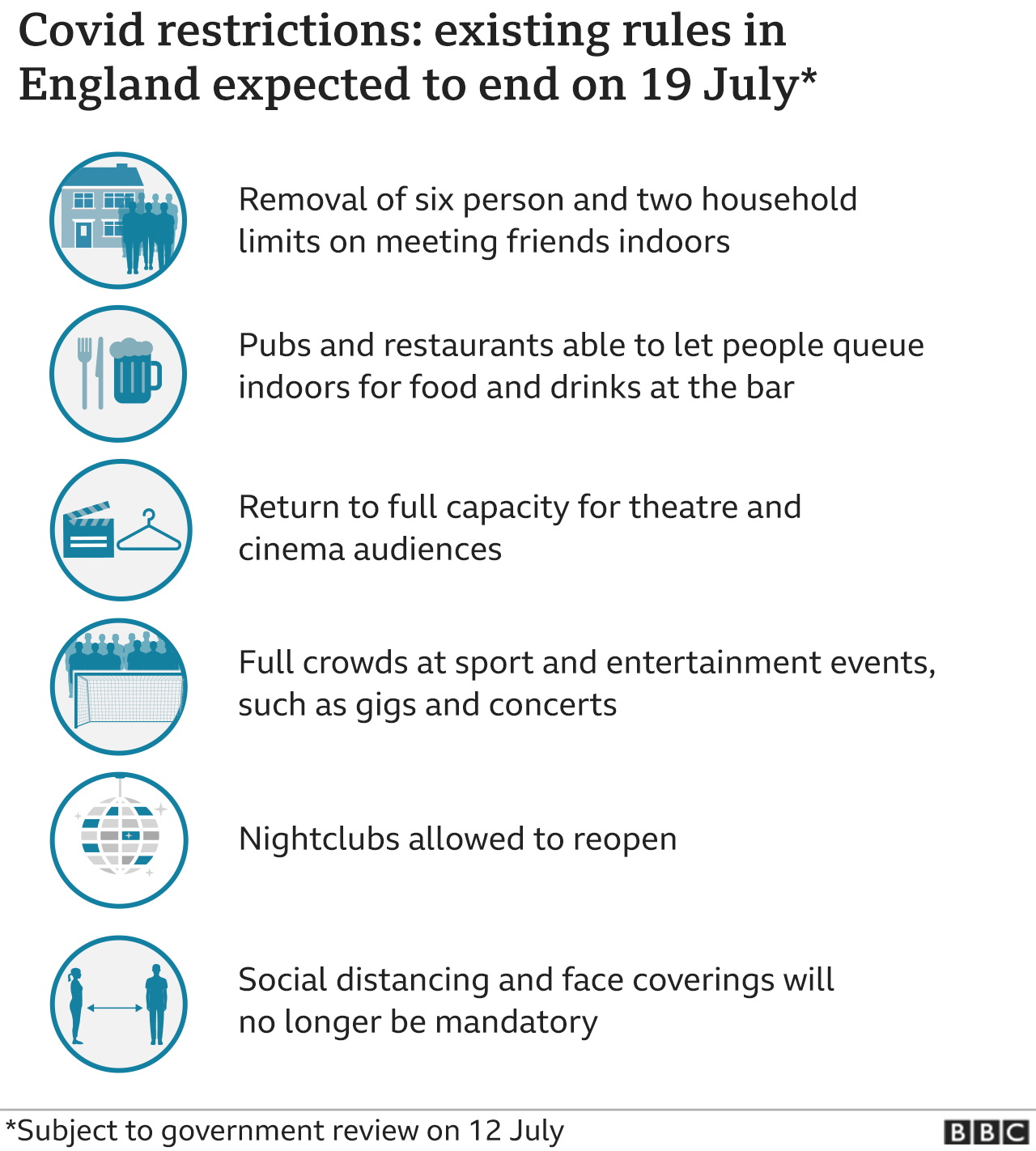 The changes on 19 July are also expected to mean nightclubs can reopen, pubs can serve people at the bar and capacity limits at concerts, theatres, sports events or places of worship would be lifted.
But the requirement to self-isolate if you are contacted by NHS Test and Trace will remain in place until 16 August, when it will be relaxed for people who have had both vaccine doses. If someone tests positive for the virus they will still be legally required to self-isolate.
Wales is due to review its restrictions on 15 July, while Scotland is expected to move to level 0 on 19 July and lift most legal restrictions on 9 August. Northern Ireland is due to ease some Covid measures on 26 July.
Source: BBC