Holidaymakers travelling this weekend have been warned to expect flooding, thunderstorms and 55mph gusts of wind.
The Met Office issued yellow warnings – meaning there is a risk of some disruption – on Friday for storms in southern England and south Wales, as well as wind across the south coast.
Campsites may face high winds while cars towing caravans could face tricky driving conditions.
Some areas could see 35mm of rain in an hour overnight, with possible flooding.
The thunderstorms come after days of high temperatures, which prompted the Met Office to issue the first of its new style warnings for extreme heat.
As the heatwave breaks, strong, gusty winds are expected to develop throughout the afternoon and evening on Friday, when holidaymakers may be heading off on weekend trips.
Exposed coastal areas and hilly places are the most likely to experience gusts of between 45mph and 55mph.
As well as affecting caravans and tents, the high winds could cause delays to ferry services and coastal routes may be affected by sea spray and large waves, the Met Office said.
Thunderstorms are expected to move into southern England during Friday night, with frequent lightning and the possibility of large hailstones falling.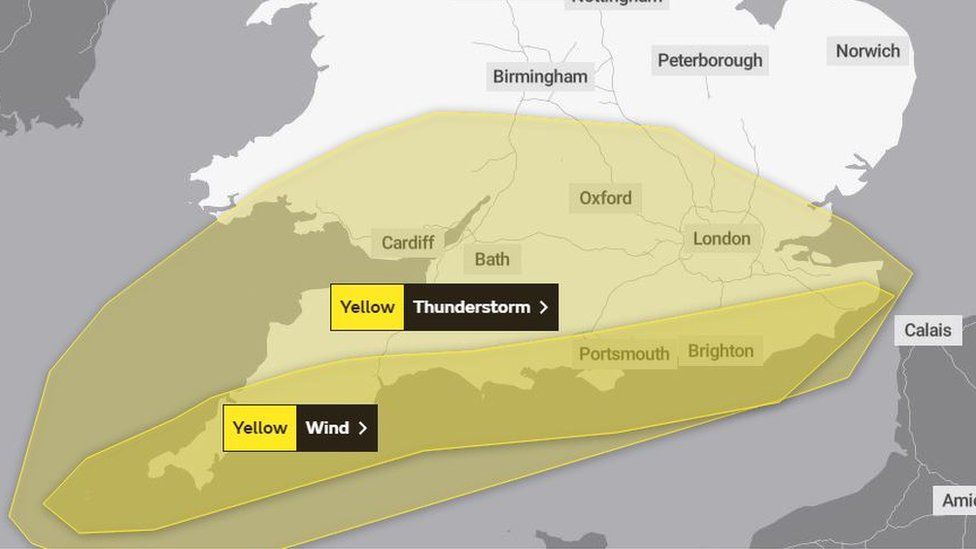 Meanwhile, a wildfire alert was issued for Devon and Cornwall, with the risk expected to peak on Friday.
And Northern Ireland's amber warning for extreme heat continues until midnight on Friday.
The Environment Agency has one flood warning in place for Swanage Bay in Dorset, which is likely to see minor flooding from 19:30 BST on Friday. Natural Resources Wales has issued no flood warnings.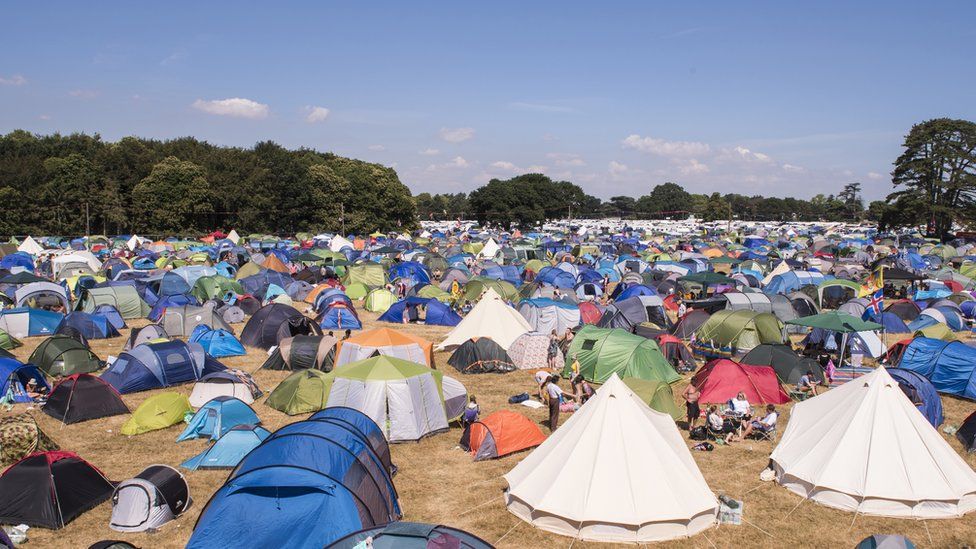 The weekend storms are expected to reach south Wales and the Midlands early on Saturday.
More slow moving storms are expected to develop by Saturday afternoon across southern England, with very heavy rainfall – of between 30 and 50mm in an hour – and a risk of flooding in some places.
Further heavy showers and thunderstorms are expected on Sunday across southern and eastern England, with the yellow warning stretching into East Anglia, possibly affecting Latitude Festival in Suffolk.
Up to 80 or 100mm of rainfall could build up in some locations over the course of the day, the Met Office says.
Source: BBC