Millions of low income families are facing a squeeze on their finances from October, a charity has said.
A combination of rising energy and consumer goods prices, coupled with benefits cuts, will add an extra £710 in costs for poorer households, the Joseph Rowntree Foundation warned.
The report comes amid debate about plans to end the uplift in Universal Credit payments.
The government said it has schemes in place to protect consumers.
The charity worked out the impact of rising costs on a lower-income couple with two young children, with one adult working full-time with gross earnings of £20,000 per year.
It said the £710 poor households would need to find would include an extra £3 per week for energy assuming a pre-payment meter, £8 in other costs and £2.50 per week in National Insurance contributions.
On top of this, they will be losing a £20-per-week increase in Universal Credit (UC), which the government introduced last year as a temporary measure and is due end in October.
Business Secretary Kwasi Kwarteng told the BBC on Tuesday the UC cut could make it "a very difficult winter" for low income families, and said he was speaking to Chancellor Rishi Sunak and Work and Pensions Secretary Therese Coffey "a great deal" on the subject.
Peter Matejic, deputy director of evidence and impact at the Joseph Rowntree Foundation, said: "Millions of low-income families are incredibly anxious about how on earth they are supposed to make ends meet from next month.
"Ministers rightly recognise this is shaping up to be a very difficult winter, yet there is little sign of them taking the decisive steps that are necessary to avoid real hardship for low-income families."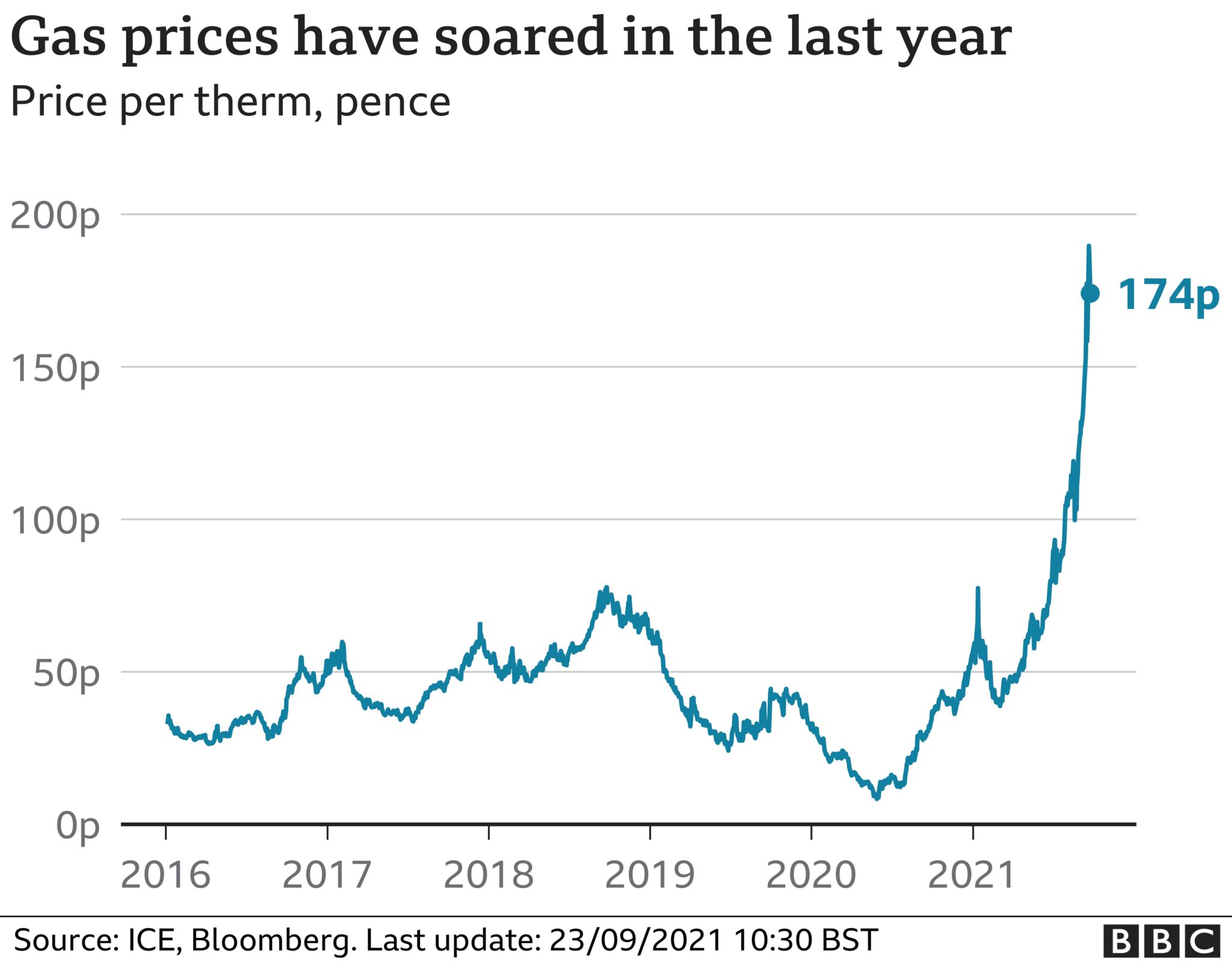 Wholesale gas prices have soared in recent months due to high demand and a reduced supply.
Customers are buffered from steep wholesale gas price rises by the energy price cap, which is the maximum price they can be charged.
But from 1 October, customers on standard tariffs could see an increase of £139, from £1,138 to £1,277 a year.
And people with pre-payment meters could see an increase of £153, from £1,156 to £1,309.
About four million UK households use pre-payment meters. These customers are more likely to be vulnerable and living in fuel poverty, and are more likely to self-disconnect if they are in debt, according to Ofgem.
A government spokesperson said: "Protecting consumers is our top priority which is why Energy Price Cap will remain in place.
"We are supporting vulnerable and low-income households further through initiatives such as the Warm Home Discount, Winter Fuel Payments and Cold Weather Payments.
The spokesperson added that the uplift to Universal Credit "was always temporary, to help claimants through the economic shock of the toughest stages of the pandemic".
"It's right that the government should focus on helping people back into work and supporting those already employed to progress and earn more."
'Perfect price storm'
Martin Lewis, the founder of Moneysavingexpert.com, said in advice published online that energy prices have "exploded" and that "urgent damage limitation is needed".
He said that alongside hikes to gas prices, electricity prices from gas-powered generation may also rise.
From 1 April next year, the price cap could jump again to a "stomach-churning" £1,450 per year for typical use, he said. Consumers coming off a cheaper energy deal "will pay substantially more", he said.
Mr Lewis said he was "very concerned about how those on lower incomes will cope with these horrific new energy prices" adding that they face "the perfect price storm".
There are emergency coronavirus measures ongoing for those who are struggling, and are having to "choose between heating and eating", he said.
"Your supply won't be cut off – disconnections have been suspended, while prepayment customers can get emergency credit to ensure the lights stay on," he said.
People can apply on a case-by-case basis to suppliers for payment reviews, breaks, or reductions.
It is also possible to get £140 towards bills through the Warm Home Discount, government scheme.
Source: BBC