People have been evacuated from a "large number" of homes in South Wales, as Storm Christoph brought widespread flooding across England and Wales.
About 2,000 homes in the Didsbury and Northenden areas of Manchester, Ruthin and Bangor-on-Dee, North Wales, and Maghull, Merseyside, were also affected overnight.
Severe flood warnings remain in place, and further rain is expected next week.
People have been told Covid rules let them leave their homes in an emergency.
A large number of properties are reported have been evacuated due to flooding in Skewen, near Neath, in West Glamorgan.
Emergency services are at the scene and Neath Port Talbot Council is urging members of the public to avoid the area.
Prime Minister Boris Johnson visited Didsbury on Thursday morning to see the flood response there, as the severe flood warning was stood down and people evacuated earlier were allowed to return.
He said: "There will be more to come, there will be further rain next week, so it is vital that people who are in potentially affected areas follow the advice."
He said flooding had a "huge psychological, emotional and financial cost" for people and said the government was investing £5.2bn in flood defences over six years.
Heavy rain led to multiple major incidents and flood alerts being declared across England and Wales.
Many rivers are at "dangerously high levels", the Environment Agency said.
Pumps and sandbags had to be brought in to protect supplies of the Oxford-AstraZeneca vaccine being held in a warehouse in Wrexham, north-east Wales, which was threatened by floods.
Homes have also been flooded in Cheshire following heavy rain and snow showers, with roads disrupted and residents warned river levels are still rising.
Evacuations have taken place in Warrington, Northwich, Chester, Ellesmere Port and Tattenhall, according to Cheshire Constabulary. Drone footage captures the extent of the damage the bridge over the River Clwyd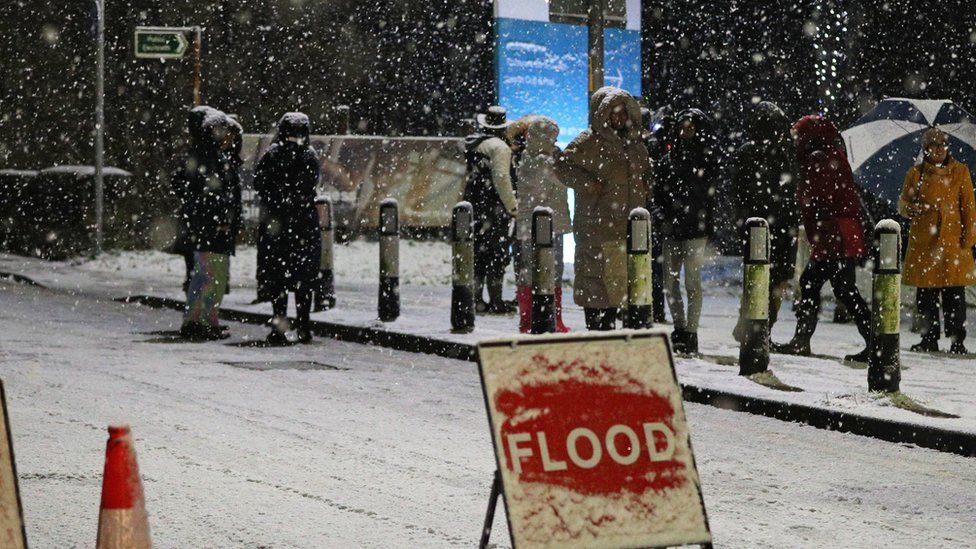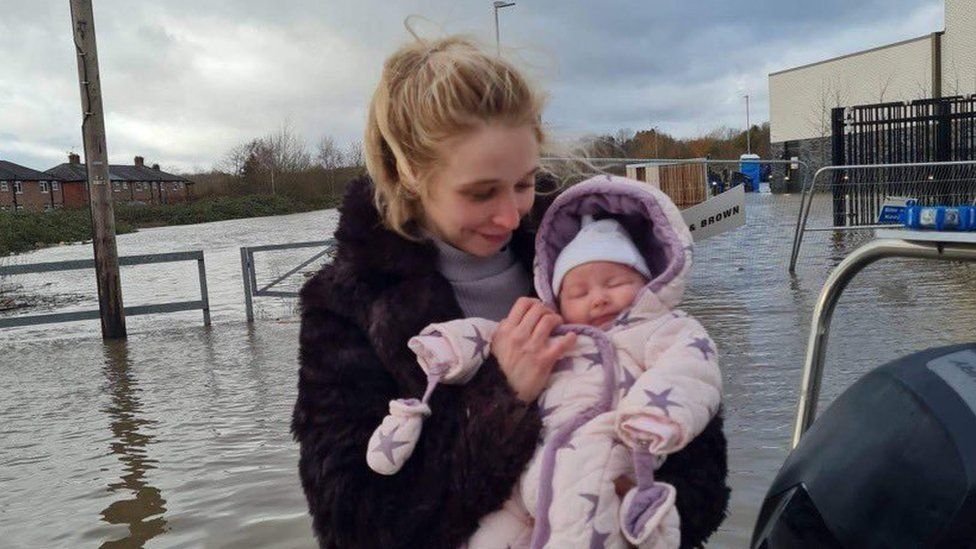 Lauren Turner, 27, woke up on Thursday to find three inches (7.5cm) of water in her house in Warrington, Cheshire.
She was evacuated with her young children by boat at 11:30 GMT, but she told BBC News her dog was still in the house on the sofa and was "scared of water". She is hoping the RSPCA can rescue him.
Didsbury resident Fari Iravani told BBC News his family had been told to evacuate but "during corona where do you evacuate to? You don't want to impose yourself on other people."
He added: "We are trying to hold on as long as we can, and hopefully it will pass… If there is a continuation of the rain and the storm, that's going to be a problem."
Nelson Vasconcelos, 37, said he could not leave his home in Didsbury with his two small children because he had no family nearby. "We spent all night moving things to the second floor and trying to keep the kids safe," he said.
Lee Rawlinson, of the Environment Agency, said flood basins on the River Mersey at Didsbury had protected properties in the area overnight.
"The top of the river came within centimetres of the top of the river bank but our defences there have served their purpose and kept those properties dry. But it was very close," he told BBC Breakfast.
Severe flood warnings – meaning there is a risk to life – have been issued by the Environment Agency for the River Bollin at Heatley and Little Bollington, and the River Dee at Farndon, Cheshire.
Natural Resources Wales has issued severe flood warnings for the River Dee at Bangor-on-Dee, Wrexham, and the Lower Dee Valley from Llangollen to Trevalyn Meadows.
There are also more than 170 flood warnings – meaning flooding is expected – across England, and nearly 30 in Wales.
In other developments:
Yellow weather warnings for ice remain in place until Friday morning across the west of Scotland, Northern Ireland the north-west of England and much of Wales
Yellow warnings for snow and ice in parts of Scotland remain, after heavy snowfall overnight disrupted travel
The East Coast Main Line is affected by floods between York and Darlington, with LNER saying all lines are blocked in the surrounding area
Cleveland Police have asked motorists to avoid driving if possible in the Redcar area due to standing water
There were multiple crashes due to icy conditions on the M5 near Bristol, including a five-car pile-up and an overturned lorry
After some residents in the Maghull area of Sefton, Merseyside, were advised to leave their properties, Sefton Council said rain overnight had not been as heavy as predicted. But the Environment Agency said the River Alt was expected to remain high and flooding was still possible
Northern, Trans Pennine Express and East Midlands Railway are advising customers not to travel, with flooding on a number of routes
There is disruption on rail routes in the Midlands between Stoke-on-Trent and Lichfield Trent Valley/Stafford/Crewe after flooding closed lines, and the weather has disrupted Cross Country and Transport for Wales routes in Wales

'I've never seen it like this' – at the scene
There have been flood warnings in Didsbury before, of course, but nothing on this scale in recent memory.
Certainly nothing that would see emergency services declare a major incident and evacuate more than 2,000 homes in and around this area of south Manchester.
But on Wednesday night the River Mersey rose and plunged thousands of residents into new depths of stress and confusion, coming just centimetres from breaching flood defences.
And while the defences worked as they should – preventing homes from being deluged – the alert caused widespread bewilderment as residents now accustomed to stay-at-home messaging were suddenly ordered to leave.
As the night wore on the driving rain turned to thick snow, coating the streets in white and adding an even more surreal backdrop to the drama.
Life-long Didsbury resident Terry Sheldon lives in the house he was born in 69 years ago, in Darley Avenue, just metres from the river.
"The whole thing has been staggering," he said. "I've never seen it like this here in my lifetime."

North Wales Police began evacuating residents of Bangor-on-Dee from their properties in the early hours of the morning. People sheltered for a short time in a church hall and some were now staying with relatives, while others had been found accommodation by the local authority, Wrexham council said.
Earlier on Wednesday evening, the force had been called to help residents in Ruthin who were being told to leave their homes – but warned resources were being stretched by people who did not live locally driving to witness the floods.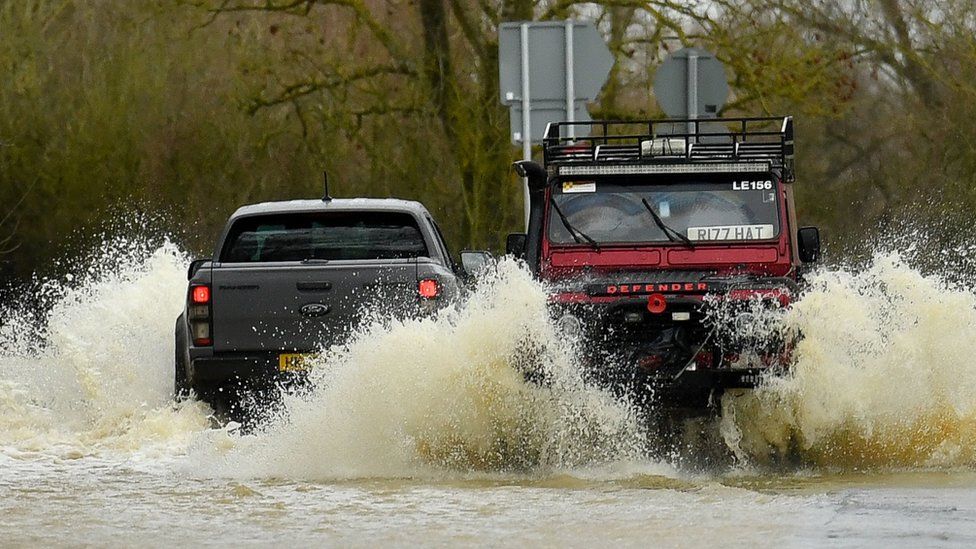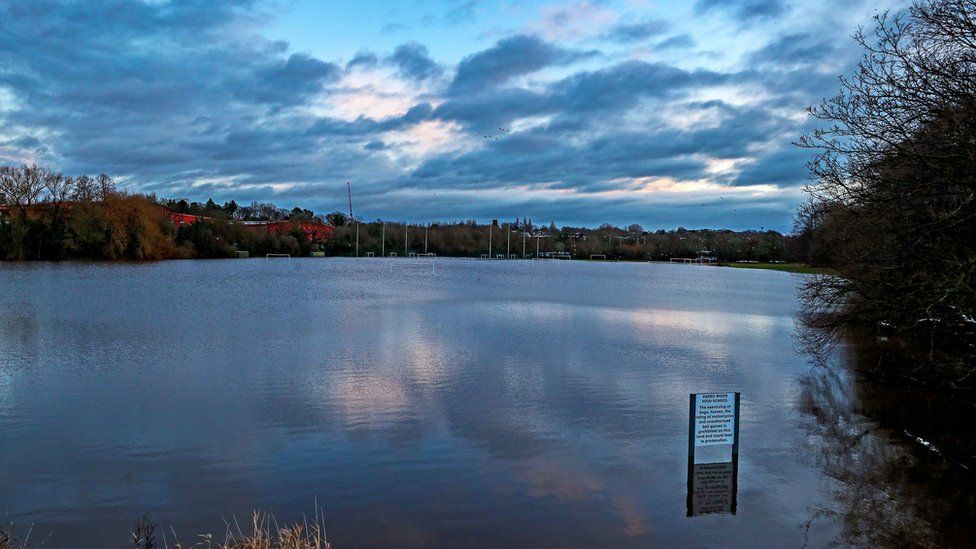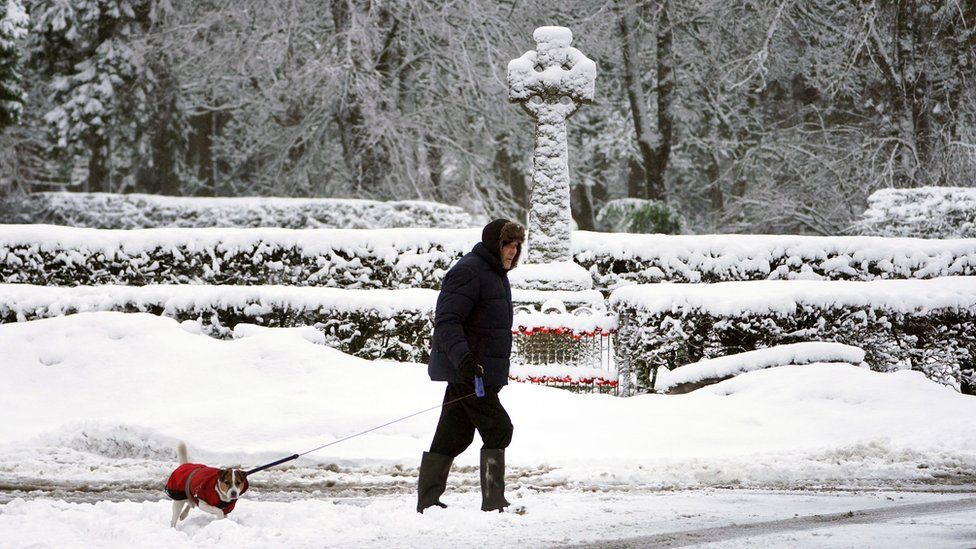 Visiting affected areas in Greater Manchester, Prime Minister Boris Johnson warned of more rain to come
Labour's shadow floods minister Stephanie Peacock said the government's response to the floods had been "slow and uncoordinated".
"We must ensure councils are supported to protect people, businesses, and local communities, and that all of the necessary precautions are also in place to protect those fighting the floods in light of the Covid-19 pandemic."
Source: BBC News